Harris County Judge Lina Hidalgo raises COVID-19 threat level to red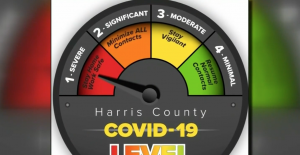 Harris County Judge Lina Hidalgo announced on Monday that she raised the county's COVID-19 threat level to red, the highest level.
The county judge cited a rising number of hospitalizations, with the 14-day average for positive ICU cases reaching 18.1% and the positivity rate is at 35%.
Level 1 indicates a severe and uncontrolled threat to COVID-19 and urges residents to stay home except for essential needs such as going to the grocery store to buy food or medicine, according to Harris County Public Health.
The county had raised the threat level from yellow to orange on Dec. 20.
In a news conference Monday, Hidalgo, was joined by Harris County Precinct 1 Commissioner Rodney Ellis, Spring Independent School District Chief of Police Ken Culbreath, and Dr. Ericka Brown, of Harris County Public Health.
"I wish I were here to report better circumstances, but unfortunately today we find ourselves yet again crossing a threshold we don't want to cross because of the omicron variant," Hidalgo said. "In other words, we are in the midst of another COVID-19 tsunami. And this time, it truly is a tsunami when it comes to those cases. It's like nothing we've seen before in this pandemic."
Hidalgo added she also worked with Commissioner Ellis and Precinct 2 Commissioner Adrian Garcia to deliver 111,000 tests to school districts across Harris County.
In addition, Harris County Public Health will partner with Spring ISD to open a testing site at Planet Ford Stadium Spring on Tuesday. The site will offer 300 PCR tests each day and will open for the next two weeks.
Residents can sign up for an appointment beginning at 4 p.m. on Monday.
Hidalgo said she hopes this time is the last the county reaches red.
"We can make this the last time this happens but for right now, for the sake of our hospitals and for the sake of our workforce, we have to sound the alarm once again," she said.
Source: click2houston