Harris County DA's Office, partner agencies honored for mental health diversion program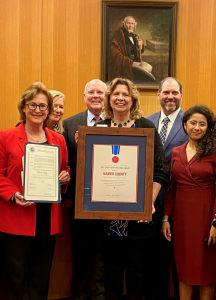 The Texas Association of Counties presented its 2022 Best Practices Award on Tuesday at Commissioners Court to the Harris County District Attorney's Office for its Mental Health Diversion Program.
A resolution, sponsored by Precinct 3 Commissioner Tom Ramsey, recognized the program by the DA's Office's Mental Health Bureau and its community and law enforcement partners. It has successfully diverted more than 6,000 people with mental illness who are suspected of low-level, nonviolent offenses, such as trespassing, to the Judge Ed Emmett Mental Health Diversion Center for treatment as opposed to being booked into jail.
"We are honored to receive this acknowledgement for what we know is a win-win for Harris County. The Mental Health Diversion Program balances reform and public safety by getting those with mental health challenges much needed help and reserving jail space for repeat, violent offenders," District Attorney Kim Ogg said.
The Harris Center for Mental Health and IDD serves as the lead agency for the program, which is a collaborative effort among multiple stakeholders invested in the intersection of mental health and the criminal justice system. Among other partners are the Harris County Sheriff's Office, Houston Police Department and Harris County Commissioners Court.
Begun in 2018, the DA's Office's Mental Health Diversion Program is a community-based alternative for law enforcement officers to route people to mental health services that also saves taxpayer money: For every $1 spent on diversion, the county saves $5.54 that would otherwise be spent on associated criminal justice costs.
The program is serving as a model for other jurisdictions across the state.