Happy '713 Day' | Here are all the ways you can celebrate being a Houstonian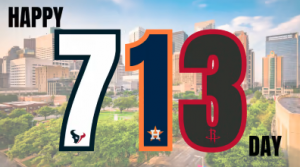 To the rest of the world, July 13 is just another day. But for Houstonians, the day is an unofficial holiday that we call "713 Day."
For those not from Houston, let us educate you a little bit.
First, 713 Day IS NOT Houston's birthday. The numbers 7-1-3 are actually the city's very first area code. It was established back in 1947 as part of the North American Numbering Plan, and it was Houston's only area code until 1996.
Three other area codes have come to Houston since, but 713 will always be the O.G. And honestly, there's just not a calendar date for "281," "832," and "346."
The 713 Day holiday hasn't always been a thing. In fact, it's only been celebrated in recent years. But hey, any reason to party is a good thing, right?
If you're looking for ways to celebrate 713 Day, check out this list below.
Lotus Seafood
Lotus Seafood is offering crab lovers a chance to crack open their favorite crustaceans for just $7.13 at all of its Houston-area locations. The 713 Day special is valid for online, phone and walk-in orders.
Le Jardinier at MFAH
Le Jardinier at The Museum of Fine Arts Houston is celebrating 713 Day by offering $7.13 cocktails. The promotion will begin at 7:13 p.m. and end at 10:13 p.m. During that time, the restaurant will have a music playlist created by the MFAH team.
Houston Rockets
The Houston Rockets will host seven free youth basketball clinics at community centers throughout Houston in honor of 713 Day. This is part of a campaign they are calling "713 Day of Basketball." Each child who participates will receive a "713 Day of Basketball" shirt and a voucher for a special $7.13 ticket to select Rockets games during the upcoming season.
Star of Hope
Star of Hope has partnered with radio stations 93Q and The Eagle, along with HEB, to put together a water collection drive on 713 Day. The water collected will be passed out to Houston's homeless. The drive will be held from 7 a.m. to 7 p.m. at the Grand Parkway HEB Plus.
Do713
Do713, a go-to source for events happening in Houston, teamed up with local music venues, bars, restaurants and landmarks to offer Houstonians discounts on food and drinks. The event site is also offering Houstonians an opportunity to win free merchandise and gift cards from local businesses, including Trill Burgers, 8th Wonder Brewery and Tacos A Go Go! More details here.
The Savoy
The Savoy is celebrating 713 Day with complimentary shots for everyone at the bar at 7:13 p.m. The Savoy will be opening its doors at 4 p.m. on Thursday, July 13, and will give a complimentary "Happy Hour Box" to its first 100 customers.
Houston Astros
The Houston Astros will be celebrating 713 Day with a limited-edition New Era snapback hat collaboration with Mattress Mack, along with four sports-themed "concept caps" from New Era. Fans will only be able to purchase the hats at the Astros Center Field Team Store on Thursday, July 13 at 7:13 a.m. Mattress Mack will be on-site at 7:13 a.m. to greet fans and take pictures. Fans will also have a chance to take photos with the 2017 and 2022 World Series trophies from 7:13 a.m. to 9 a.m.
Rooftop Cinema Club
8th Wonder Brewery
POST Houston
POST Houston, along with the Houston Texans and Bud Light, are hosting a big party at POST's X Atrium. The event will feature Texans, Toro, games, giveaways, music and special offers on merchandise.
Clutch City Cluckers
XiaoLongKan Hotpot
XiaoLongKan Hotpot is celebrating 713 Day where you can get seven mouth-watering dishes for $7.13 each. The dishes include beef ribeye slices, lamb leg slices, mussels and meatballs.
Source: www.khou.com