Governor Abbott Requests Presidential Disaster Declaration in Response to Severe Weather and Flooding
Governor Greg Abbott today sent a letter to President Donald Trump requesting a Presidential Disaster Declaration for Texas counties heavily impacted by recent severe weather and flooding that caused wide- spread damage across the state. Additional Texas counties may be added to the declaration as local, state, and federal agencies continue to assess damages.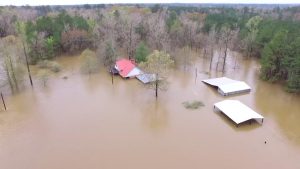 "The magnitude of recent severe weather and flooding has taken a serious toll on Texans across the state," said Governor Abbott. "With such widespread flooding and devastation, addi- tional resources are needed to help Texans recover. This request will help provide assistance and emergency services for Texans impacted by this disaster, and I thank the President for his con- tinued support."
Governor Abbott has included the following counties in his request for a Presidential Disaster Declaration, which, if granted, would allow those affected to apply for Individual Assistance (IA), Other Needs Assistance (ONA), Crisis Counseling, Disaster Unemployment Assistance, Disaster Legal Assistance, and Disaster Case Management: Burnet, Ellis, Haskell, Liberty, Llano, Sutton, Tarrant and Travis counties.
Public Assistance Categories A through G including Direct Federal Assistance have been re- quested for Baylor, Brown, Burnet, Callahan, Coleman, Fannin, Gillespie, Haskell, Hill, Hopkins, Houston, Jones, Kerr, Kimble, Knox, Leon, Llano, Madison, Mason, Nolan, San Patricio, San Saba, Sutton, Throckmorton and Travis counties.
In addition to the Presidential Disaster Declaration request, Governor Greg Abbott today also expanded his State Disaster Declaration to cover a total of 111 Texas counties. Governor Abbott has authorized the use of all available resources of state government and of political sub- divisions to aid in the response efforts.
Counties included in the updated State Disaster Declaration are: Aransas, Atascosa, Austin, Bandera, Bastrop, Baylor, Bee, Bexar, Blanco, Brazoria, Brazos, Brooks, Brown, Burleson, Burnet, Caldwell, Calhoun, Cal- lahan, Cameron, Chambers, Coleman, Colorado, Comal, Co- manche, DeWitt, Dimmit, Duval, Eastland, Edwards, Ellis, Erath, Fannin, Fayette, Fort Bend, Frio, Galveston, Gillespie, Goliad, Gonzales, Grimes, Guadalupe, Hamilton, Harris, Haskell, Hays, Hidalgo, Hill, Hood, Hopkins, Houston, Jackson, Jim Hogg, Jim Wells, Jones, Karnes, Kenedy, Kendall, Kerr, Kimble, Kinney, Kleberg, Knox, Lampasas, La Salle, Lavaca, Lee, Leon, Liberty, Live Oak, Llano, Madison, Mason, Matagorda, Maverick, McMullen, Medi- na, Mills, Montgomery, Nolan, Nueces, Palo Pinto, Parker, Polk, Real, Refugio, San Jacinto, San Patricio, San Saba, Shackelford, Somervell, Starr, Stephens, Sut- ton, Tarrant, Taylor, Throckmorton, Travis, Trinity, Uvalde, Val Verde, Victoria, Walker, Waller, Washington, Webb, Wharton, Willacy, Williamson, Wilson, Zapata and Zavala.