Governor Abbott Announces Workforce Development Grant In Dallas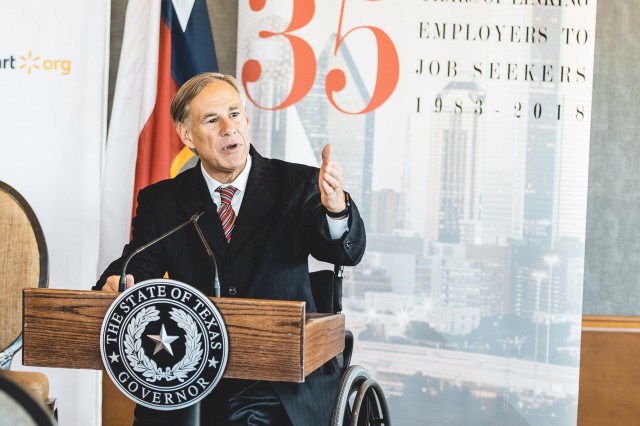 Governor Greg Abbott today joined the Texas Workforce Commission (TWC), Workforce Solutions Greater Dallas (WSGD), and Walmart to announce a workforce development grant. Walmart presented a $5.4 million grant for workforce programs aimed at upskilling incumbent frontline retail and other customer-facing workers in Texas. Governor Abbott thanked Walmart for their generosity, and highlighted the importance of investing in the Texas workforce.
"On behalf of Texas, I thank Walmart for their investment in the future of Texas and for their collaboration with TWC and WSGD to provide top-notch training to our workforce," said Governor Abbott. "The retail sector is vital to Texas' booming economy, and this grant aids in employee retention by upskilling entry-level workers for more advanced jobs — creating even greater economic mobility. Working together, we will continue to expand economic prosperity in the Lone Star State and ensure a brighter future for all Texans."
"Workforce Solutions Dallas aims to accelerate upward mobility of frontline retail workers," said Kathleen McLaughlin, Chief Sustainability Officer for Walmart and President of the Walmart Foundation. "We are excited to expand this innovative program to reach more Texans, and help Texas be a role model for other states in how to increase economic opportunity for workers in retail."
This grant will benefit five regions in Texas, with more being added in the future: Greater Dallas, Coastal Bend, Rural Capital, Gulf Coast, and far North Texas. Some of the innovative training will include face-to-face programs that will take place in a number of Texas community colleges. And an online portal, funded by a Texas Talent Connection grant previously awarded by Governor Abbott, will provide statewide access and offer multiple training programs and industry-based certifications.