Getting Closer to What Matters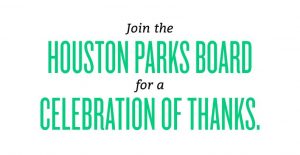 As 2020 has progressed, we have shifted from large-scale events to smaller gatherings organized with great care. Thousands of Houstonians have expressed that they have felt a wonderful connection to one another as they have turned to our parks and trails during months of social isolation. This has brought us closer in spirit as we simply get outdoors and connect with nature.
With Bayou Greenways 2020 nearing completion, Houstonians will have unprecedented access to parks and trails, shaping the lives of  families and communities across the city. These green spaces enhance our quality of life and allow us to connect with one another in ways that cannot be fully quantified.
Houston Parks Board looks forward to celebrating Bayou Greenways 2020 with you tomorrow at noon, here.

Brock Park has provided a new lease on life for Carla. Watch her story and others as part of our Week of Thanks celebrating Bayou Greenways 2020 and all those who helped make it happen.