Former Starbucks CEO Really Hates Being Called A 'Billionaire' By Bernie Sanders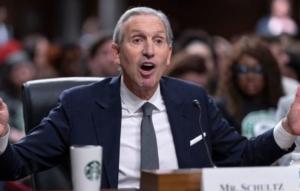 Former Starbucks CEO Howard Schultz is most associated with coffee, but it seems he also has a strong appreciation for "whine."
That was apparent Wednesday when Schultz testified in a high-profile hearing about union-busting allegations against the coffee chain.
Not only was Schultz unhappy about being called a union buster, but the man whose personal fortune is estimated at $4.3 billion also took umbrage at being called a "billionaire."
"This moniker, 'billionaire' ― let's just get at that, OK?" he said. "I grew up in federally subsidized housing. My parents never owned a home. I came from nothing … Yes, I have billions of dollars. I earned it, no one gave it to me."
"It's your moniker, constantly," Schultz went on, addressing Sanders. "It's unfair."
Schultz's unhappiness with the B-word is nothing new.
During a brief period in 2019 when he was considering running for president, Schultz tried to inspire people to use his preferred terms for the rich: "people of wealth" and "people of means."
Spoiler alert: It didn't catch on.
As you probably predicted, Twitter wits roasted Schultz's defensive testimony.
Source: yahoo news