Former NFL Player motivates Lone Star College baccalaureate students to finish their degrees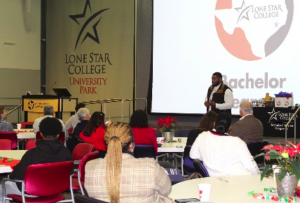 Lone Star College is one of the top associate degree producers in the nation. Today, it also offers four baccalaureate programs for students interested in earning a bachelor's degree close to home.
"The baccalaureate programs expand Lone Star College's commitment to providing high-quality academic and workforce programs while ensuring that students meet industries' needs," said Stephen C. Head, Ph.D., LSC Chancellor.
LSC held a Bachelor's Degree Holiday Retention and Recruitment Event at LSC-University Park Dec. 16. Devon Still, former NFL Defensive End, and current speaker and Positive Psychology Instructor at Penn State University, spoke to attendees, encouraging them to finish their baccalaureate program despite challenges they may face. Still earned a master's degree in Business Administration from the University of Houston-Downtown after he played for the Houston Texans in 2016.
"Your character determines what you're willing to go through to achieve your goal," said Still. "Storms will not last forever; endure them. Good times won't last forever; savor them. Education provides individuals with the knowledge and skills to live a flourishing life. Without it, there is no progress individually or collectively."
Before the event, Asma Mirza, Steradian Technologies co-founder and CEO, encouraged students to cultivate powerful networking relationships with their professors and find opportunities to create innovative ideas in their chosen industry. Mirza said that her bachelor's and master's degrees led her to create Steradian, a Houston-area deep-tech, health care startup developing a novel way to detect respiratory infections within 30 seconds for the price of a latte.
"It's important for students to understand that earning a bachelor's degree and forming solid networking groups can lead them to create their own jobs and excel in their careers," said Mirza. "Earning a bachelor's degree can be their big step toward becoming great."
At the Bachelor's Degree Holiday Retention and Recruitment Event, Jose R. Lopez said LSC is an economical choice for earning his bachelor's degree in Energy, Manufacturing and Trades Management. He will graduate in May 2023. Lopez is a 30-year career machinist and quality inspector in the Energy and Manufacturing industry. He previously earned an associate of arts degree and an associate of applied science degree at LSC-CyFair.
"During the pandemic, I was laid off, but I did not want to stop my educational journey," said Lopez. "I was planning to attend the University of Houston, but during my research, I found out that Lone Star College offered a degree that was less expensive. It was a good deal that I couldn't pass up."
Nathaniel Littlepage, a student in the Bachelor of Applied Technology in Cybersecurity program, felt LSC was the only educational institution in the area that could offer him the next step in his desired field.
"I earned an associate degree in CISCO Networking, but I had no place to go with it," Littlepage said. "Lone Star College's Cybersecurity bachelor's degree is the only program locally, and I've learned many skills, such as programming and threat analysis, which will prepare me for a forensics career in law enforcement."
LSC is the only community college in the state to launch four baccalaureate degrees in Nursing, Cybersecurity, Emergency Management and Energy, Manufacturing and Trades Management. These programs were recognized for multiple promising practices in the 2022 e-book issued by the Community College Baccalaureate Association.
"Lone Star College offers bachelor's degrees in a wide range of fields focused on industries that are critical to the local and regional economies where community college students live and work," said Dalia Sherif, Ph.D., LSC-University Center at The Woodlands Executive Dean of Baccalaureate Programs and Partnerships. "Additionally, students can earn their bachelor's degrees at the same tuition rates as an associate degree, thus saving them thousands of dollars."
Lone Star College enrolls over 80,000 students each semester providing high-quality, low-cost academic transfer and career training education. LSC is training tomorrow's workforce today and redefining the community college experience to support student success. Stephen C. Head, Ph.D., serves as chancellor of LSC, the largest institution of higher education in the Houston area and has been named a 2022 Great Colleges to Work For® institution by the Chronicle of Higher Education, ranked 35th in Texas in the Forbes 'America's Best Employers By State' list and recognized by Fortune Magazine and Great Place To Work® as one of this year's Best Workplaces in Texas™. LSC consists of eight colleges, seven centers, eight Workforce Centers of Excellence and Lone Star Corporate College. To learn more, visit LoneStar.edu.