Flash floods in the northeast, heatwave intensifies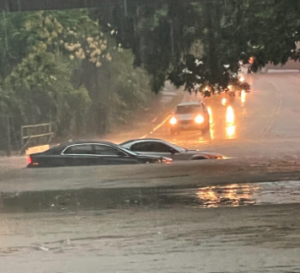 An extreme heatwave peaked in the western United States on Sunday, with temperatures reaching 128 Fahrenheit (53 Celsius) in the California desert, while flash flooding continued to menace the Northeast, killing at least five people.
Nearly a quarter of the U.S. population fell under extreme heat advisories, partly due to a stubborn heat dome that has been parked over western states. While baking parts of the country, the heat dome has also helped generate heavy rains in the Northeast, a pattern expected to continue for days if not weeks, according to the National Weather Service.
In Bucks County, Pennsylvania, just north of Philadelphia, downpours and flash flooding over the weekend killed at least five people. Nearly 7 inches (17 cm) of rain fell on the area in 45 minutes late Saturday, Upper Makefield Township Fire Chief Tim Brewer told a press conference, claiming five lives as vehicles were swept away. Two children, one aged 2 and the other 9 months, remained missing.
"We continue to look for the two children," Brewer said. "We are not going to give up regardless. The weather is a factor but at this point we are going to continue the operations and have already set things in motion for tomorrow as well."
New York Governor Kathy Hochul on Sunday urged residents in her state to avoid travel until the rain passes, saying that "your car can go from a place of safety to a place of death" if swept up in a flash flood.
The rains were expected to ease on Monday but nonetheless created havoc throughout much of the Northeast in recent days, with Vermont in particular reporting catastrophic flooding in its capital Montpelier.
The heat warnings spread from the Pacific Northwest, down through California, through the Southwest and into the Deep South and Florida.
Death Valley, California, officially reached 128 F (53 C) on Sunday, according to the National Weather Service, although the famed temperature display sign outside the Furnace Creek Visitors Center showed 133 F (56 C).
Furnace Creek in Death Valley recorded the hottest recognized temperature ever on Earth at 134 F (56.7 C) in July 1913, according to the World Meteorological Organization.
Expecting to see history made, about two dozen tourists gathered around the sign and cheered on Sunday when the digital display of 132 ticked up to 133. People snapped pictures while U.S. National Park rangers stood by in case anyone succumbed to the heat.
"It's my first time being here so I feel it would be really cool to be here for the hottest day ever on Earth for my first time," said Kayla Hill, 24, of Salt Lake City, Utah.
Phoenix marked its 17th consecutive day over 110 F (43 C), reaching a high of 115 F, and is forecast to tie the June 1974 record of 18 straight days over 110 F on Monday and extend the record for at least another week.
The National Weather Service said widespread record-breaking high temperatures are likely to be recorded across the Southwest, in the western Gulf Coast and also in south Florida.
Temperatures between 100 F and 110 F are forecast for portions of the Pacific Northwest. That could be particularly dangerous for an area unaccustomed to excessive heat, as many homes do not have central air conditioning. Meanwhile southern Europe is enduring a punishing heatwave.
Scientists say fossil fuel-driven climate change is heralding more extreme weather like that seen in the U.S. in recent days, warning that the world needs to drastically cut carbon emissions to prevent its catastrophic effects.
(This story has been corrected to change the age of missing child to nine months, not nine years, in paragraph 3)
Reporting by Jorge Garcias in Death Valley and Brad Brooks in Lubbock, Texas; Writing by Daniel Trotta; Editing by Josie Kao and Stephen Coates
Source: www.reuters.com