Five years later: Santa Fe Families share how their lives have changed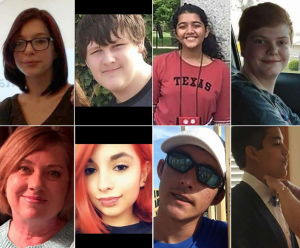 May 18, 2023 marks five years since the Santa Fe shooting. Ten people were killed and 13 others injured on May 18, 2018. The accused gunman remains in a North Texas hospital declared incompetent to stand trial.
"My son is Aaron Kyle Mccleod – we lost him on May 18," said Gayle McLeod, his mother.
"My daughter Kimberly was shot and killed in the school shooting," said Rhonda Hart, her mother.
"My mother Cynthia was murdered that day," said Joe Tisdale, her son.
"I was the officer that was working at Santa Fe when the shooting happened and obviously was shot in my arm," said John Barnes, who survived the shooting.
"I was shot in the Santa Fe shooting," said Flo Rice, who was a substitute teacher at Santa Fe High School. She was teaching basketball in the gym, when she heard the fire alarm.
Rice walked towards the exit with her students, not knowing she would be in the shooter's path. Realizing she had been shot, Rice called her husband from the parking lot.
"Flo has a lot of PTSD, I've just a little bit," said Scot Rice, her husband. "If you go back to the school for an event, or for anything, you know, it's like you relive it that moment."
Since the shooting, the Rices have become advocates for school safety. They supported a bill Gov. Abbott signed to harden schools and better equip substitute teachers.
However, after Uvalde, the Texas House of Representatives Investigative Committee on the Robb Elementary School put out a report saying it hadn't been enforced there.
"They stated the school said they would leave doors unlocked for the convenience of substitute teachers that did not have keys," said Flo.
It's not just broken promises these Santa Fe families have dealt with, but also a fight to get information. There was no third-party report done on the shooting. Leaving many families in the dark about what actually happened to their loved ones inside the school.
"We saw them take their first breaths, and we knew their Apgar score and their weights and their measurements, but we're not allowed to know how they died," said Hart.
On May 18 she was a bus driver. Hart happened to see her daughter walking into school that morning, they waved "I love you" in sign language, their tradition. It was the last time she saw her daughter alive.
Hart and others pushed for a bill that would allow victims families to see certain evidence from the crime scene. It's now headed to the Governor's desk, but the years of fighting has weighed on them.
"It creates this animosity between victims and the system, whatever the system is, because it looks like they're trying to hide something," said Barnes.
They all have little hope there will ever be a trial.
"It doesn't feel like it," said McLeod.
"I don't think so," said Tisdale.
For more than three years, the accused shooter been undergoing treatment at a North Texas hospital to restore his competency.
"There's been no progress. Well, I understand they can't tell us exactly what progress has been made. But there has to have been something," said McLeod. "I mean, you just can't let him go for a year with doing nothing. It just needs there needs to be some progress. That's the problem."