Fight Finished: Title Won in Typical Nats Fashion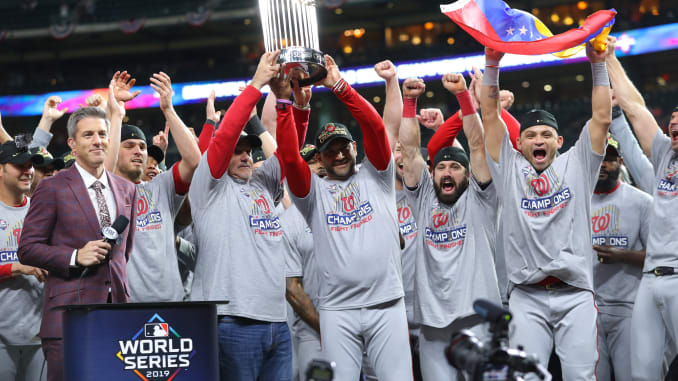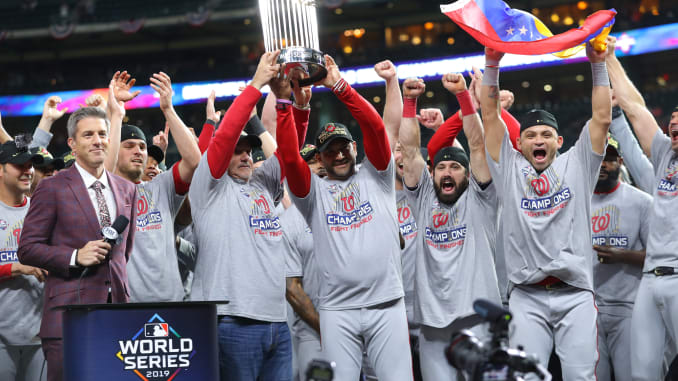 Story Courtesy of MLB.com
The 2019 Washington Nationals should be remembered for their resiliency. Every time they seemed down, like they dug themselves in too big of a hole, that there were no more comebacks to be made, they somehow found a way. On the way they retrained a fan base that had so often expected heartbreak in October to dream again, to remember what it feels like to believe.
The season nearly slipped away in May, but these Nationals refused to allow it. They trailed in all five elimination games this month, yet they found a way to win them all. In a way, that made Game 7 of the World Series on Wednesday night seem like a microcosm for the season — the Nats' offense looked lifeless as they trailed into the seventh inning, until all of a sudden they found life. So maybe it had to be this way for a team that made a habit of taking the hard way out. And now for the first time in franchise history, they can call themselves champions.
The Nationals won the World Series on Wednesday night, knocking off the favored Houston Astros, 6-2, in the decisive Game 7 to win their first championship. They did it by overcoming a 3-2 series deficit to become the first team in MLB history to win all four games on the road to clinch a series.
"Everything that we've been through over this past month, you can't describe a better team than what we have," Max Scherzer said. "The moments that we all shared. It wasn't just one guy, it wasn't just one moment, everybody had a moment. Everybody stepped up."
The Nats arrived in D.C. in 2005 and revived baseball in a city that had been without it for three decades. They transformed from also-rans into perennial postseason contenders, but their failures in October only offered a tease of what it would be like if they ever reached the pinnacle of the sport. It all made the moment that much sweeter.
That much sweeter for the thousands of fans in Houston who filled the lower-level seats near the visiting dugout after the game, celebrating the team as they filed into the dugout to celebrate. More than 1,400 miles away, fans packed into Nationals Park for a watch party and worked themselves into a frenzy on the final out.
"There's no better place than this right now," manager Dave Martinez said.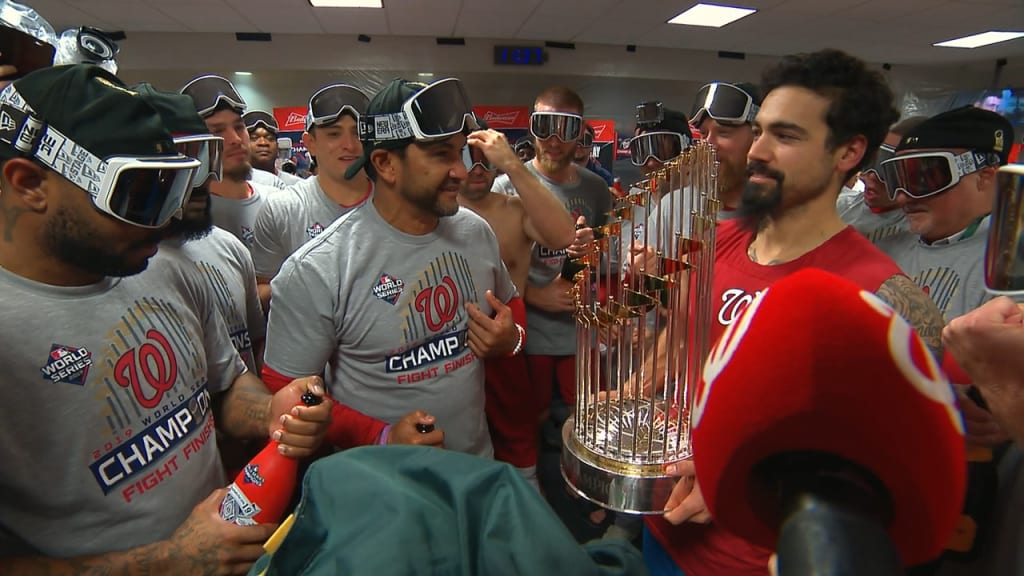 Remember that this Nationals team wasn't even supposed to be here, rebounding from such a disappointing start that would have crumpled many teams. The details of that comeback have been cited repeatedly this month, but they're worth revisiting. After falling to 19-31 on May 23, Washington ripped off the best 80-game stretch in club history. On the way to 93 wins, the Nats secured the top National League Wild Card slot, earning their spot in October on a different path than any previous Nationals team and then traveling farther down that road than any who came before them.
That road included five potential elimination games and three winner-take-all contests. The Nats trailed the Brewers by two runs in the eighth inning of the NL Wild Card Game, staring down Josh Hader and just six outs away from an early offseason, but they survived. They trailed 2-1 in the NL Division Series against the heavily favored Dodgers, but they responded to win the next two games, including a Game 5 in Los Angeles where they trailed, once again, by two runs in the eighth inning with Clayton Kershaw on the mound. That stretch began one of the most blissful runs for any team in MLB postseason history, eight consecutive victories to knock off the Dodgers, steamroll past the Cardinals in the NL Championship Series and capture the first two games of the World Series in Houston.
And then once again the Nationals found themselves with their backs against the wall, down 3-2 in the World Series against the juggernaut Astros and needing to win Games 6 and 7 on the road. But they were not interested in becoming a footnote to the making of a dynasty.
"We stunk," right fielder Adam Eaton said, thinking back to the start of the season. "But for us, it's like you fail early, you come together as a group, you struggle as a group to be able to succeed later. You learn from the mistakes. … All of a sudden we start to accelerate and then when our backs are against the wall, it's like, 'Well, we've done this before.' We stunk in April and May and everyone counted us out. We're used to this, this is nothing new."
To win this championship, the Nationals were carried by their stars.
Scherzer and Stephen Strasburg pitched in 10 games this postseason and the Nats won all 10 of them. Seven years after a shutdown, Strasburg rewrote his own postseason legacy and was named the World Series Most Valuable Player. Two days after Scherzer needed help dressing himself, he gutted through five innings of two-run ball without his best stuff in Game 7. Patrick Corbin, the third member of this dominant rotation trio, spent most of the month pitching out of the bullpen, helping to turn the team's weakest link into a strength. Aníbal Sánchez might have had the best start all month, just missing out on a no-hitter in Game 1 of the NLCS.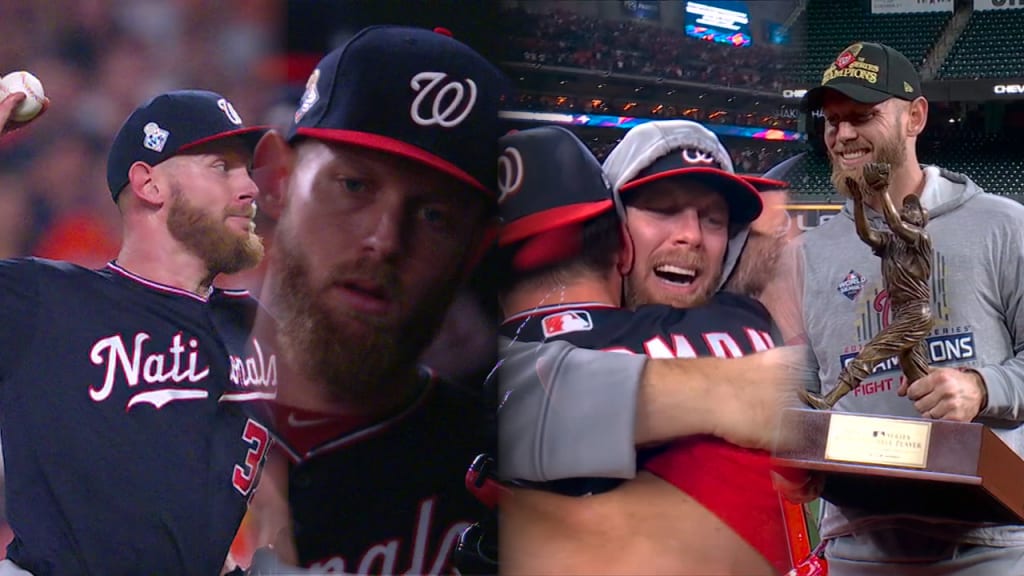 That model built around starting pitching was crafted by general manager Mike Rizzo, who saw the 2001 Arizona Diamondbacks ride the arms of Curt Schilling and Randy Johnson to a title and believed in the value of a rotation ,ever since.
"We have a really good process of how we do things and I would say that we have been a really good team since 2012," Rizzo said. "It's time we've gotten to the top of the mountain and I just feel happy about it."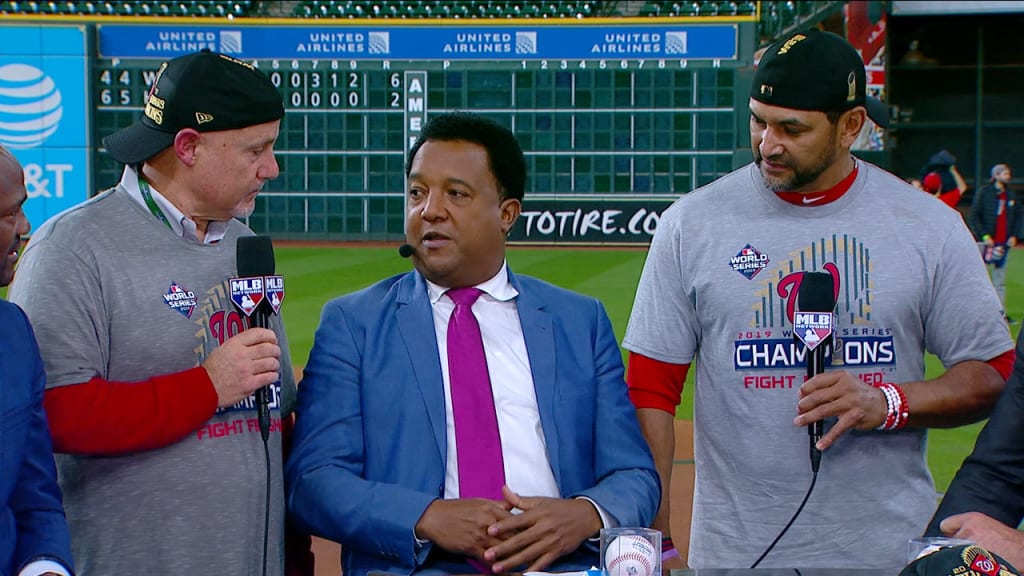 And then there was Juan Soto introducing himself to a national audience as a star before his 21st birthday, shuffling and smiling and bat dropping and putting on a performance well beyond his years. Anthony Rendon remained calm and collected even in the biggest moments, and his homer Wednesday night helped ignite the offense, just like he did in Game 5 of the NLDS. Or Howie Kendrick, who tore his Achilles tendon and missed most of last season, delivering two of the biggest home runs in Nationals postseason history, a grand slam in extra innings to beat the Dodgers in Game 5 and a go-ahead two-run homer off the foul pole in right field in the seventh inning Wednesday.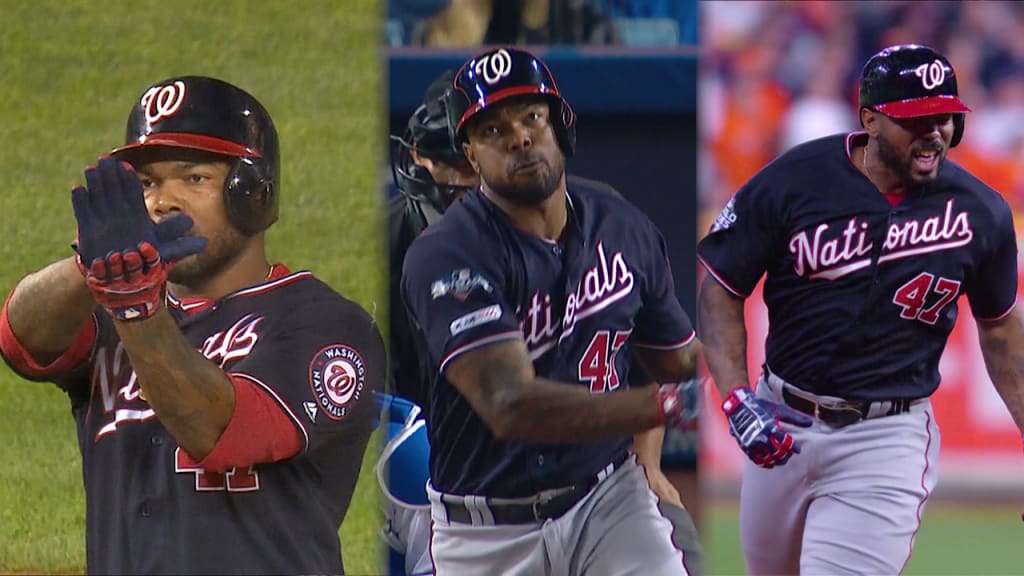 They rallied behind their manager Martinez, who missed a series in September to receive a cardiac catheterization and had to lay off caffeine during this postseason run, even if that didn't mean taking it easy on umpires.
"It's not a mystery that we just kept fighting to the end and now look at us, we're raising the trophy and we're world champs," catcher Kurt Suzuki said. "It feels like we had to come back in every game that we won, especially the elimination games. It just says a lot about this team and the character."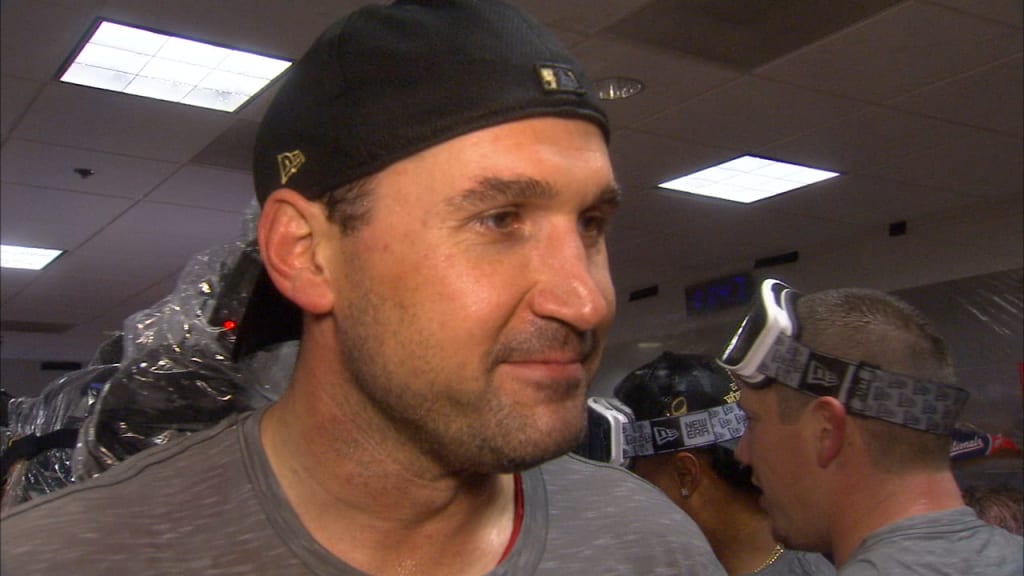 And remember these Nationals for how much fun they had along the way.
How they smashed cabbages on the clubhouse floor after victories — a tradition that began on national cabbage day, they'll say, as if that makes it more normal. They had a full-on dance party in the dugout to celebrate home runs, where everyone got involved, even the normally stoic Strasburg. They gave awkward hugs and wore colored glasses in the dugout. They got a stadium full of people to clap their hands in unison along to "Baby Shark."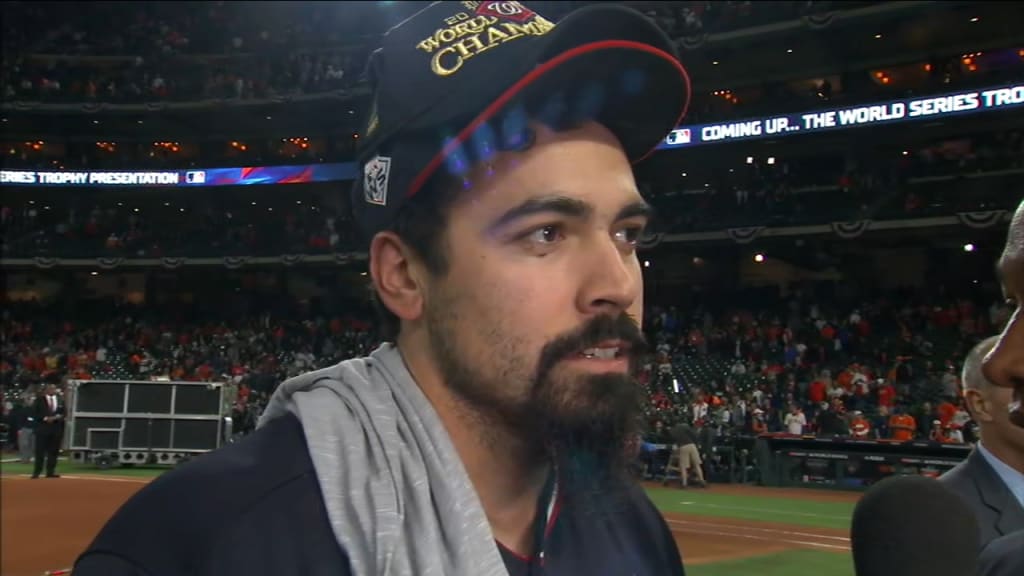 Their clubhouse champagne celebrations — five in the past month now — included lightsabers and football helmets, random whistles, corn on the cob and bottles of tequila. Scherzer, so giddy for most of the night he could not control himself, smiled when dared to match the Washington Capitals' celebration after winning the Stanley Cup.
When the Nationals were down earlier in what looked like might become a lost season, black T-shirts were draped over every chair in the clubhouse with red letters that read "Stay in the Fight." Fast forward to Wednesday night: As the Nats stood on the field at Minute Maid Park for the World Series trophy presentation, they were handed out new T-shirts that read: Fight. Finished.
Jamal Collier has covered the Nationals for MLB.com since 2016. Follow him on Twitter at @jamalcollier.