FDA OKs First Totally At-Home COVID-19 Diagnostic Test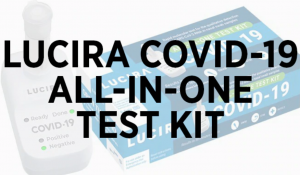 People can not only test themselves for COVID-19, but get rapid results at home, as the FDA authorized use of the first self-testing molecular single-use diagnostic to detect SARS-CoV-2 late Tuesday.
Emergency use authorization (EUA) was granted to the Lucira COVID-19 All-in-One Test Kit, a real-time loop mediated amplification reaction single-use test that provides rapid results, the FDA said in a statement.
Individuals age 14 and older who are suspected of having COVID-19 by their healthcare provider can use the test by swirling the self-collected nasal swab sample in a vial placed in a testing unit, where the results can be read in 30 minutes or less via a light-up display. This test is only available by prescription.
It is also authorized as a point-of-care test in doctor's offices, hospitals, urgent care centers and emergency rooms, but samples from individuals younger than age 14 must be taken by a healthcare provider.
Director of FDA's Center for Devices and Radiological Health, Jeff Shuren, MD, characterized this authorization as "a significant step" in the agency's response to the pandemic.
"A test that can be fully administered entirely outside of a lab or healthcare setting has always been a major priority for the FDA to address the pandemic. Now, more Americans who may have COVID-19 will be able to take immediate action, based on their results, to protect themselves and those around them," he said in a statement.
FDA commissioner Stephen Hahn, MD, added that while prior COVID-19 tests have been authorized for at-home sample collection, "this is the first that can be fully self-administered and provide results at home."
Healthcare providers will be required to report all test results to the relevant public health authorities. The agency also noted individuals who test positive should self-isolate and seek additional guidance from their healthcare provider. Those who test negative, but still have symptoms should also follow up with their provider, since a negative test "does not preclude an individual from SARS-CoV-2 infection."