East End Chamber Of Commerce: Blanca E. Blanco Wins 2018 Best Small Business Of The Year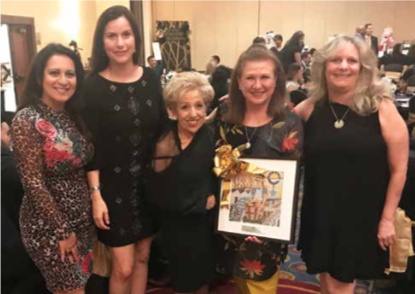 Independent Financial Advisor, Blanca E. Blanco, was awarded the 2018 Best Small Business Award at the East End Chamber of Commerce's 2018 Awards Banquet. "I was honored to be nominated along other great companies," said Blanco, who was overjoyed and surprised, since the other two nomi- nees are more seasoned in their businesses.
Blanco has fifteen years of experience in the financial industry. Prior to starting her financial firm three years ago, she did a six-year stint at Chase Bank, as a financial advisor. Although, becoming an independent financial advisor has its challenges, Blanco worked hard to overcome them. This tenacity helped to establish herself as the "go to person for women" who suddenly find themselves single with assets to invest. Blanco has discovered this exclusive niche that also includes a mix of Spanish-speaking clients and investors. She has expanded her services to include life insurance to protect the assets of her clients, as well. Her fifteen year trajectory in the financial services industry began at Edward Jones in Texas City in 2002, and then in 2005, she transitioned to Merrill Lynch in Galveston, Texas.
Blanco moved from her native San Antonio in the '80's to Houston seeking greater opportunities in the law field where she worked as a legal secretary for 12 years. Although, the economy was in a downturn due to the oil and real estate bust, Blanco prospered working at large law firms, including Baker & Botts, and later at Gissell, Stone, Barker & Lyman.
One day she witnessed a friend doing a newspaper lay out, and Blanco, said, to herself, "I can do that". Little did she know that her belief would be a portal that would one day lead her to publish VIVA! Magazine. The publication was a Hispanic themed newsprint tabloid insert, printed in English, which circulated in the Houston Post from 1991-1995. Blanco was the publisher, editor, writer, photographer and layout designer for this weekly periodical with a 300 thousand circulation. VIVA! Magazine featured Hispanic business owners, who went from rags to riches to build successful enterprises. In its heyday, the magazine was the place to be seen in the social pages.
Blanco is a high-profile influencer and master networker in Houston's East End. She has a decade of being an active member of the East End Chamber of Commerce, where she has served on the Ambassador Committee. In that role, she has worked hard to expand the East End Chamber's footprint recruiting new members and welcoming new business to the area.
She also gives her time serving on the board of the East End Management District, an agency that promotes redevelopment of the East End community. Other highlights of her career include serving as the Host Committee Chair, for the East End Street Fest this past October. In 2003, Blanco served as President of the Rotary Club in La Marque, TX. Her legacy has been to serve and give back to the community where she hangs her business shingle. Presently, Blanco assists the Cleveland-Ripley House in Pasadena, TX, conducting financial educational seminars in Spanish. Another milestone was being named "Woman of the Year" for the Business and Professional Women Association of Houston. She is also a proud inductee in the Hispanic Women Hall of Fame by the Houston Hispanic Women in Leadership.
Blanco is also an active Democrat who has worked on several campaigns including Tex- as State Senator-Elect, Carol Alvarado, Congresswoman-Elect Sylvia Garcia, and Harris County Judge- Elect Lina Hidalgo, as well as, Pct 2 Commissioner-Elect Adrian Garcia.
Her philosophy is to never forget where one comes from and to aid those that need a helping hand. Her goals for 2019 include growing her business so she can "pay it forward" giving more of her time and resources to those in need. Furthermore, she wants to mentor and pass on her life lessons that she has gained over her business life.