Deshaun Watson, Texans erupt in 2nd half at Los Angeles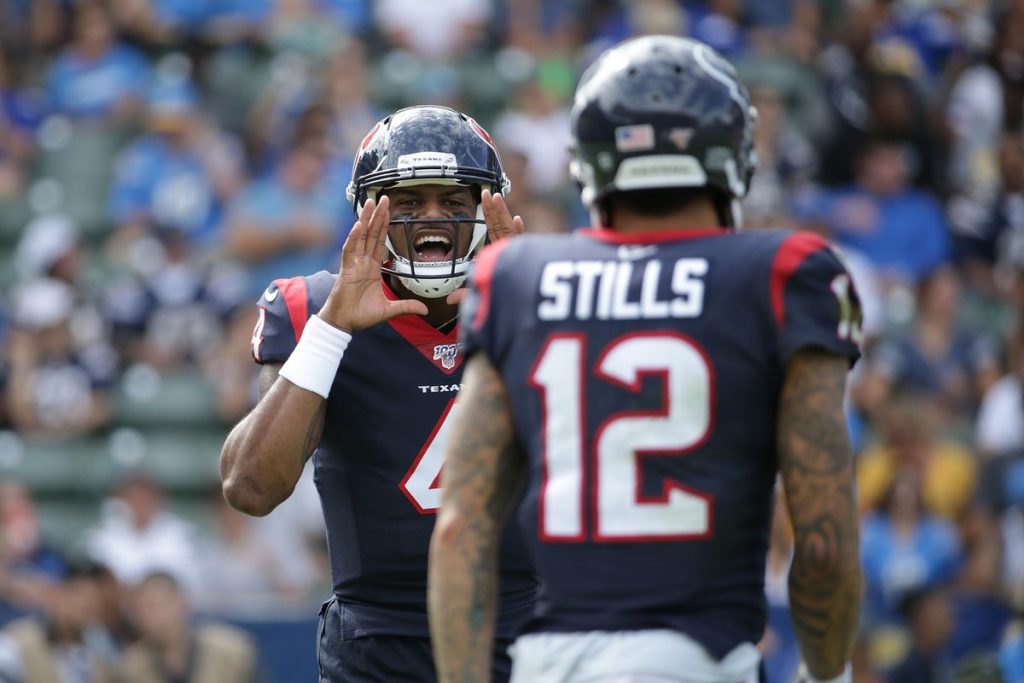 The Texans were down by 10 points at the intermission of Sunday's game against the Chargers.
But it didn't matter to Deshaun Watson.
The third-year quarterback engineered a trio of Texans touchdown drives and Houston roared back from a 17-7 deficit to triumph by a 27-20 margin in Carson, CA. On the final scoring drive, with 9:40 remaining in the game, he shook off a few Chargers pass rushers and was able to find a wide-open Jordan Akins. The second-year tight end sprinted 55-yards for six points, and the Texans held on for the win.
"Deshaun's been doing that forever, since he's been playing football," receiver DeAndre Hopkins said. "Us as receivers, we know what Deshaun's going to do. We know he's not going to go down easy, so we always keep our routes alive."
Hopkins wound up with six catches for 67 yards. He was one of four different Texans pass-catchers who had a reception of 30 yards or longer.The 55-yarder to Akins came about after Watson eluded pressure and got it to his tight end.
"No one was over there, so I just kind of flicked him the ball," Watson said. "He made a play after that. That was pretty much it."
Defensive end J.J. Watt, who rang up two sacks and two tackles for loss, loved seeing what his quarterback did on Sunday.
"He's an unbelievable player," Watt said. "You're never out of a game. It's always a lot of fun to sit on the bench and watch him play, because you never know what you're going to see."
Watson completed 25-of-34 passes for 351 yards, with three touchdowns and zero interceptions. His QB rating was 135.8.
After the break, he was 12-of-17 for 199 yards and two scores to Akins.
From Watt's vantage point, which wasn't good, the final Watson-to-Akins touchdown had the defense in an "ecstatic" state.
"I can't see a ton from the sidelines," Watt said. "He escaped out of there, which he does all the time which is crazy, and he threw it to him. I looked up at the scoreboard to see where he was going to run to, and there wasn't a single other person there on the screen. I was like 'Well, this could be good.' And then he kept going, and going, and he scored."
Watson was sacked just two times on Sunday, and gave a lot of credit to his offensive line, which saw left guard Max Scharping get his first NFL start, and Zach Fulton and Tytus Howard lining up on the right side at guard and tackle respectively.