Descubrimos a Iam Tongi, ganador de American Idol, que brilló con James Blunt en la noche de su victoria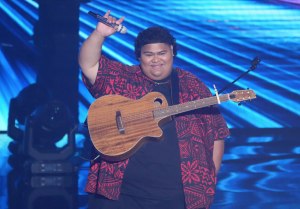 Iam Tongi ha sido el brillante ganador de la edición número 21 de American Idol y, en esta pasada noche, tenía además un acompañamiento especial de James Blunt. Fue el momento de escuchar 'Monsters' que provó lágrimas y emoción como en Katy Perry, miembro de un jurado compuesto también por otros dos compañeros, Lionel Richie y Luke Bryan.
Por tanto, vamos a echar un vistazo a quién es el protagonista de la victoria y a aquella interpretación especial.
Iam Tongi
Con su familia se mudaron de Kahuku, una ciudad en O'ahu (Hawái), a Seattle debido al aumento del costo de vida en la isla. Cuando los jueces del programa American Idol le preguntaron por qué se mudarían de la hermosa Hawái a la lluviosa Seattle, Tongi fue sincero y dijo que a su familia "Le costó el paraíso" y tuvo que mudarse a un lugar más asequible.
Así ha llegado, con 18 años de edad, a la fama cantando estos temas:
'MAKING MEMORIES OF US' DE KEITH URBAN
'COOL DOWN' DE KOLOHE KAI
Y 'I'LL BE SEEING YOU'
Recibía más votos que Megan Danielle y Colin Stough, convirtiéndolo en el nuevo American Idol.
A esa noche de éxito tenemos que sumar la mencionada interpretación de 'Monsters' que interpretaba con su creador, el cantautor inglés James Blunt.
Este es un tema que Blunt escribía con Amy Wadge y Jimmy Hogarth para el sexto álbum de estudio 'Once Upon a Mind' de 2019. Y, como añadido, el músico decidía que todas las ganancias obtenidas de la canción llegaran a las organizaciones benéficas Help for Heroes y British Legion. De su canción, en su estreno nos contaba James que "Es para mi padre. No estaba bien, porque necesitaba un riñón. Cuando ves a tu padre frágil, ves el círculo de la vida. Escribí la canción que decía que era mi turno de cazar monstruos, mi turno de cuidar de él. Es una de mis canciones favoritas e hicimos un videoclip con mi padre. Sale genial y fue muy emocionante".
Source: www.cadena100.es