Dan Snyder to sell Washington Commanders to Josh Harris-led group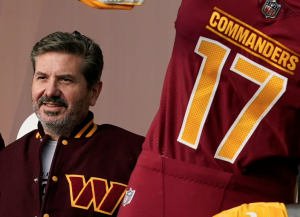 Washington Commanders' owner Dan Snyder has agreed to sell his NFL team to a group led by Philadelphia 76ers co-owner Josh Harris for $6 billion, multiple outlets report.
Why it matters: An official agreement, if reached, would end months of bidding and the tumultuous Snyder era. The billionaire's 24-year run as owner began with great hopes in the then-proud football town of Washington and ends with the stain of harassment scandals and a drained fanbase.
It would be the highest price ever paid for a sports team, ahead of the $4.6 billion that the Walton-Penner family paid for the Denver Broncos last year.
Sportico first reported news of the deal. A news report yesterday said that Jeff Bezos punted on buying.
Of note: Any deal has to be submitted and approved by league owners.
Driving the news: The group includes Harris, Washington-area billionaire Mitchell Rales and former NBA star Magic Johnson.
Harris, who also co-owns NHL's New Jersey Devils and the Prudential Center, had previously placed bids for the Broncos and the New York Mets in the past few years.
The big picture: As the Commanders declined on the gridiron, off-field scandals piled up, puncturing Snyder's aura of invincibility.
Snyder once vowed to never change the team's name, before folding under growing pressure.
In July 2021, he quit the day-to-day operations of the franchise after an NFL investigation into the team's workplace culture led to a $10 million fine. Snyder issued a public statement apologizing for the "difficult, even traumatic, experiences while working here."
Last year, Tiffani Johnston, a former cheerleader and marketing official, testified to Congress that Snyder put his hand on her thigh and tried to pull her into his limousine. Snyder called the allegations "outright lies."
Flashback: A D.C.-area native, Snyder in 1999 described purchasing the three-time Super Bowl champions as "the most wonderful thing that's ever happened to me."
The team went on to win just two playoff games.
What's next: The sale could grease the wheels on a new stadium. Until now, local politicians were reluctant to support a new stadium that could financially benefit Snyder.
Former SEC chair Mary Jo White's investigation into Snyder and the Commanders is also ongoing with a report expected to be released this year.
Source: axios