Crime Stoppers of Houston Offers Resources, Safety Tips and Free Webinars for National Human Trafficking Awareness Month
 In honor of National Human Trafficking Awareness Month, Crime Stoppers of Houston through its Safe Community Program will focus its January outreach efforts to educate the community at large about the realities of human trafficking. Throughout this month, the organization will work with other local experts to empower Houstonians to become more aware of this type of crime happening in their communities and their neighborhoods.
In 2020, the Trafficking Victims Protection Act (TVPA) celebrated its 20 year anniversary. The TVPA passed by the United States Congress 20 years ago signaled the U.S. government's "resolve to fight human trafficking and marked a pivot from indignation to positive action" (Department of State, 2020). This was the first federal law to protect victims of sex/labor trafficking, prosecute traffickers, and prevent trafficking in the States as well as abroad. In their 20th anniversary global report, it was clearly indicated that traffickers worldwide did not slow down during the COVID-19 pandemic. Read the report here.
Latest Statistics:
There were an estimated 79,000 minor sex trafficking victims in Texas in 2019 *United Against Human Trafficking
The online solicitation of minors rose by 93% in 2020 *NCOSE
In 2019, the Department of Homeland Security opened 1024 human trafficking-related cases and the Department of Justice opened 607 human trafficking investigations.
In 2019, the department of justice initiated 220 federal human trafficking prosecutions and charged 343 defendants.
In 2019, the Department of Justice secured 475 convictions against traffickers (454 sex trafficking and 21 labor trafficking)
Crime Stoppers is inviting the community to get involved this month. Here are ways to join this critical conversation:
Educate yourself –

Download our free human trafficking safety tips available in English and Spanish at crime-stoppers.org/human-trafficking-awareness/
Watch Safety Hot Top Video on 4 Human Trafficking Myths: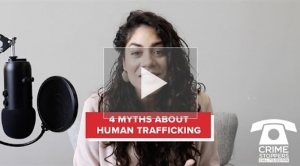 Watch Episode 15 of Crime Stoppers' Podcast, The Balanced Voice, featuring a discussion on bail reform and human trafficking: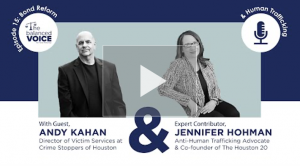 Spread the Word – Follow relevant organizations, including Crime Stoppers of Houston, on social media and share the awareness resources in your community.
Attend one of the following free webinars:

January 12 – Human Trafficking Awareness Webinar
This webinar covers the basics of human trafficking including what is human trafficking, important trafficking terms to be aware of, trafficking trends near you, the growth of human trafficking due to the internet, an overview of the grooming process, signs of trafficking, and how you can get involved in the fight against human trafficking. Watch webinar here!
January 18 – S.A.V.E – Spotting the Signs of Human Trafficking in Adolescents
It is imperative that all school administration, educators, and anyone working directly with students understands how critical it is to address the exploitation of adolescents and frequency in which it's occurring. This webinar will clarify human trafficking, expose traffickers, discuss victimization, review warning signs and addresses prevention. Register here!
January 19 – Cyber Safety & Human Trafficking Awareness Webinar
This webinar highlights the nexus between pornography, trafficking, and grooming techniques used by predators. Gain an understanding through examples of direct messages used to lure students away from their homes, and most importantly how to have the uneasy but necessary conversations with your student. Register here!
January 25 – S.A.V.E – Inside Look: Abuse and Exploitation
In this webinar, we sit down with an expert who works directly with families and children once abuse has occurred. Join her for an eye-opening conversation and how we can come together as a community to prevent these tragedies. Register here!
January 26 – Human Trafficking Q&A with Anti-Trafficking Experts
In this webinar, we sit down with local Houston Area Anti-Trafficking advocates for an honest discussion on the state of human trafficking. In this interview, you will have the opportunity to ask the panel of experts any questions you have about human trafficking. Register here!
Get involved with legislative efforts related to human trafficking. Crime Stoppers of Houston is also working closely with human trafficking partners at Children at Risk, Houston 20 and others, to inform the community about House/Senate Bills that have been filed surrounding human trafficking. We will share that information soon via crime-stoppers.org.
Report – If you have concerns about a potential trafficking situation, you may report to:

National Human Trafficking Hotline: 888-373-7888
Houston Police Department Vice Division: 713-308-8600
If you would like to remain anonymous, please contact the Crime Stoppers Tip Line at 713-222-TIPS (8477).
For more information about human trafficking or other public safety concerns, please visit crime-stoppers.org.