County Attorney Ryan Obtains Settlement to Stop Polluting by Pasadena Refinery
Harris County Attorney Vince Ryan obtained $210,000 for the County this week in the settlement of an environmental enforcement action against Pasadena Refining Services Inc. (PRSI). The company also agreed to perform an audit and to take corrective actions to prevent the occurrence of future violations and to correct other problems uncovered at the refinery during the lawsuit. The settlement comes as the result of a lawsuit seeking to hold the company responsible for repeated violations of Texas environmental protection laws.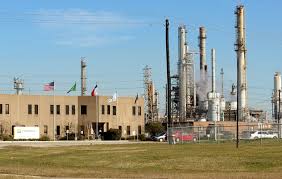 Harris County filed suit against PRSI in March of 2017 for five separate violations of the Tex- as Clean Air Act and Clean Water Act that occurred between 2015 and 2016 that were investigated by the Harris County Pollution Control Services Department.
County officials and company representatives agreed to work together to resolve the case rather than require a trial to achieve compliance. The company agreed to pay a total of $415,000 in attorney's fees and penalties. $210,000 of this amount was paid to Harris County this week with the balance being paid to the State of Texas.
In addition to paying penalties and attorney's fees, PRSI must hire an independent auditor to certify the causes of the violations and report recommended corrective changes to the company. PRSI must then implement those changes according to a timetable that is a part of a judicial order.
Violations included an incident that occurred on July 25, 2016, in which 1,446 pounds of sulfur dioxide was released during a flaring operation. Sulfur dioxide is a toxic gas that has a characteristic smell. Human exposure to the gas can cause difficulty breathing and can be fatal. The release was almost five times the limit imposed by law. As a result of the release, the Washburn Tunnel and the Houston Ship Channel were closed and the City of Galena Park issued a shelter-in-place order that lasted for one-and-a-half hours.
PRSI is a wholly-owned subsidiary of Petrobras, a Brazil-ian national oil company. The violations occurred at the century-old refinery the company operates on the Houston Ship Channel at 111 Red Bluff Road in Pasadena. The facility in question is one of oldest refineries in Texas.
The Texas Commission on Environmental Quality and Tex- as Attorney General also participated in the case.