County Attorney Ryan Adds to Environmental Law Team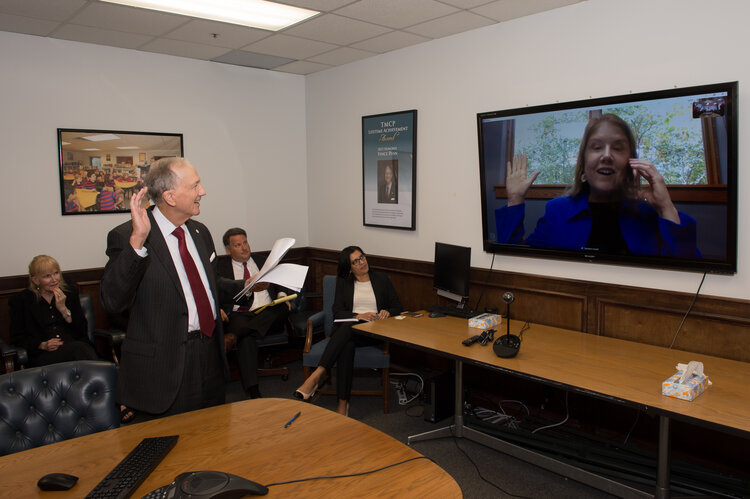 County Attorney Vince Ryan welcomes back environmental law specialist Clarissa Bauer to the County as he strengthens his team to combat the rising number of environmental enforcement cases.
Bauer re-joins the Harris County Attorney's Office as a special consultant to work with the Environmental Practice Group – which she once managed.
"Bringing back Clarissa is part of a proactive approach to managing the increasing amount of environmental cases we are filing," said County Attorney Ryan. "Her expertise and intimate knowledge of the challenges we face here in Harris County make her a true asset to our office."
Bauer joined the Harris County Attorney's Office in 1987 and served in the Environmental Practice Group from 1995 to 2007. She retired in 2014 and has spent the last several years working in private practice. She also has taught environmental law at University of Houston and South Texas School of Law. Bauer was named Texas District and Civil Attorneys Association's (TDCAA) Civil Practitioner of the Year in 2007 and a Texas Super Lawyer in environmental law in 2008 and 2009.
"I am beyond excited to have this opportunity to return to the County Attorney's Office," said Bauer. "With all the environmental issues going on, it is great to see County Attorney Ryan stepping up and working on the cutting edge of environmental law enforcement."
Bauer rejoins the office in the midst of litigation against several large corporations, including ITC, KMCO, Valero and ExxonMobil this year alone, for their environmental violations related to incidents at their facilities.
"We will continue to fight for the health and safety of Harris County residents," said County Attorney Ryan. "We will continue to hold companies large and small accountable for what they put into the air, ground and water of our county."