Coronavirus: Texas shatters daily record with nearly 14,000 new cases — as it happened
The coronavirus vaccine developed by Oxford university and AstraZeneca has delivered a better than expected result in late-stage trials, boosting hopes that the pandemic can be defeated.
Nearly 1.05m travellers passed through US airport checkpoints on Sunday, the most since mid-March, as people travelled ahead of the Thanksgiving holiday despite a warning from the top US health body. UK prime minister Boris Johnson has announced that England will enter into a strict three-tier system from December 2. Under the new restrictions, gyms, hairdressers and the wider leisure sector will be allowed to reopen within all tiers, alongside gyms and non-essential shops.
Qantas plans to insist that passengers on international flights have been vaccinated against Covid-19 before boarding its planes, once any vaccination has been launched. The biggest US technology groups, including Apple and Alphabet, hold 27 per cent of a total record cash pile among non-financial companies as the coronavirus pandemic has prompted businesses to hoard their money.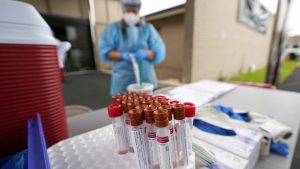 The ailing UK sports industry was given a boost on Monday after the British government announced that fans would be allowed to make a limited return to stadiums at big sporting events in England after the end of national lockdown restrictions next month. Ohio reported nearly 12,000 new coronavirus cases on Monday, its biggest one-day jump of the pandemic. Washington DC and Pennsylvania on Monday joined a growing list of US jurisdictions tightening coronavirus restrictions ahead of this week's Thanksgiving public holiday. Many Iranians have defied the lockdown which started on Saturday in order to make ends meet, casting doubts on the effectiveness of the initiative in bringing down the number of Covid-19 deaths.