Coronavirus In Greater Houston: City Surpasses 100,000 COVID-19 Cases
With a vaccine on the horizon, local officials are asking Houstonians to remain vigilant with social distancing and mask-wearing, to help stop the spread of COVID-19.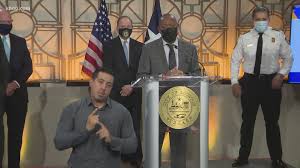 The city of Houston hit a grim milestone on Sunday, surpassing 100,000 COVID-19 cases since the start of the pandemic.
The Houston Health Department reported 1,333 new coronavirus cases, bringing the total to at least 100,907 confirmed cases as of Monday morning. That number includes the removal of 32 previously identified cases, which were found to be duplicated. Of those cases, 94% were tested within the last two weeks.
The city also reported four new deaths, bringing the total in Houston to 1,465.
The news comes as the state of Texas continues its struggle to contain the spread of the virus. The Texas Department of State Health Services reported 8,436 new cases and 92 deaths Sunday, with 8,681 people hospitalized with COVID-19. And the seven-day average of new cases has quadrupled since the beginning of October, the Texas Tribune reported on Sunday.
A White House report made public last week warned that Texas and other states may be underplaying the pandemic and recommended public health officials in those states make clear to the public the severity of the virus.
Though a vaccine does appear to be on the horizon, health officials in Houston and beyond have urged the public not to drop their guard, and to continue following public safety guidelines like social distancing and face coverings.
Texas, meanwhile, has released its allocation list for the first week of vaccinations, which could come as early as Dec. 14, depending on FDA approval.
Hospitals in Harris County will get just under 50,000 doses of the Pfizer vaccine in the first week's allocation, while Fort Bend, Montgomery, and Galveston counties are also slated to receive first-week doses, according to the state health department.
Monday afternoon, a Texas task force charged with coordinating vaccine distribution will hold a public meeting with further details of its plan.
The University of Texas Medical Branch in Galveston, which is set to receive nearly 3,000 doses of the vaccine, said it was expecting its first doses any day now. And that might be before FDA grants Pfizer emergency authorization, hospital officials said.
In line with Texas guidelines, these doses will go to hospital employees that are working directly with COVID-19 patients in the ER and ICU, as well as EMS workers.
UTMB may receive more doses about a week after the first shipment, and Dr. Phillip Keiser, who is leading UTMB's vaccine preparedness team, said the hospital may be able to vaccinate nearly 1,000 people a day.
"We think we're ready, but we also recognize that the first couple weeks of this are probably going to be very confused and we have to be nimble and be flexible," Keiser said.