Coronavirus expert Peter Hotez: Prepare for a 'scary and difficult' winter in Houston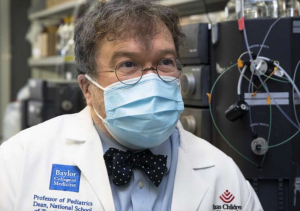 With COVID-19 cases surging in the U.S., and what may be signs of a coming spike in Houston, we checked in again with vaccine researcher Dr. Peter Hotez. Since March, when we began these long interviews, he's emerged not just as Houston's best explainer of the novel coronavirus, but as one of the best in the nation. He's the dean of Baylor College of Medicine's National School of Tropical Medicine and co-directs Texas Children's Hospital Center for Vaccine Development.
In this week's interview, he discusses the coming winter surge, and why he'll be taking the first vaccine he can get.
Nationally we've been talking for a long time about this fall-and-winter surge. That's clearly starting to happen. Tragically, in the last couple of days, we've broken records for new COVID-19 cases in a single day.
It's really accelerating up in the northern Midwest — Wisconsin, especially, and the Dakotas — and also in western states like Wyoming and Utah. A lot of it is probably linked to colder weather. People are indoors, and the virus survives really well in that environment. It could be that not only are more people exposed to the virus indoors but that they're exposed to a larger inoculum of the virus as well. I think we'll start seeing hospitalizations go up — not only the number of cases but the severity of cases as well.
I was a bit surprised about El Paso and along the border with Mexico into New Mexico — Las Cruces places like that. I'm not surprised that there's a lot of COVID there. I'm just surprised that it's happening now. I don't know quite what's happened there and what that means for the rest of Texas.
In Houston, the numbers are going up but not dramatically, not nearly as badly as for the rest of the country. It may be because now the weather's nice and people are outside.
I know the numbers will increase in Texas. They'll accelerate. My secret hope is that it's not going to be as bad as the rest of the country, but I just don't know that for certain.
How bad could this next round be for the U.S.?
There's nothing holding back the really sharp rise in most of the country, especially in the northern states, and I think it will go into the Northeast as well. Right now it's more of a flyover-state kind of problem. By that I mean, it's not as bad in New England, the Mid-Atlantic states or on the West Coast, but everything in between — especially as you go into more northern latitudes — is really bad.
I think it's going to be bad across the whole country, that the numbers are going to continue to increase. I'm especially worried about some of the Institute of Health Metrics and Evaluation predictions where they're looking at 511,000 American deaths by February 28. It's a horrible number — more than double what we have now. The country is going into a very unstable period.
Things will get better. We'll have vaccines by next year. But between now and then could be one of the worst periods of our epidemic, and it's happening after everyone's exhausted already from what's been a horrible year. I'm worried not only that people will get COVID-19, but also about our mental health: Getting sad and depressed is a normal reaction to what's going to be an even more stressful situation.
I also worry about the post-election period. If the vote goes against the President, as many are predicting, I worry that a lame-duck executive branch of the federal government would leave people to feel abandoned and on their own. And how well the states will be able to respond is a big unknown.