Congresswoman Sheila Jackson Lee Attends Briefing by Local and Federal Law Enforcement on their Plans for Protecting All Fans from the Astros and the Phillies at the 2022 World Series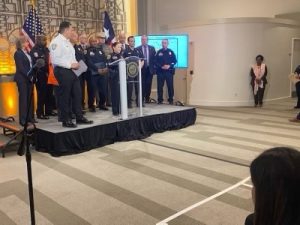 Congresswoman Sheila Jackson Lee a Senior Member of the Homeland Security Committee of the United States House of Representatives and Chair of the Subcommittee on Crime, Terrorism, and Homeland Security listens to local and federal law enforcement on their plans for protecting all the fans from the Astros and the Phillies at this year's 2022 World Series. The Minute Made Stadium is in Congresswoman Jackson Lee's district, and she is pleased about the coordination and collaboration of federal, state, and local governments to ensure the safety of all the families that will be attending!
This is a monumental occasion for the City of Houston and Mayor Turner is to be applauded for providing all the necessary resources in coordination with the federal government. Thank you to Chief Finner, Chief Peña, and Constable Rosen, along with the FBI, ATF, DHS, and state law enforcement officials.
Congresswoman Jackson Lee will be engaged with federal homeland security officials, in particular about the need for any other resources.  To all of the fans, "if you see something, say something!!" Let's have a great World Series. Let's play ball!
Go Astros!!