Con el 1° puesto en el ránking FIFA, Argentina rompió un récord absoluto a nivel selecciones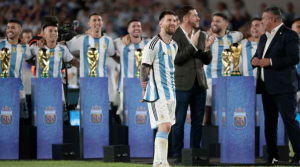 La Selección Argentina sigue rompiendo récords: tras haber conocido la noticia de que ocuparía en el primer lugar en el ránking FIFA de marzo, se convirtió en la primera selección en ganar la mayor cantidad de premios a nivel grupal e individual en disputa.
La Albiceleste obtuvo la Copa del Mundo, la Copa América y la Finalissima, el 1° lugar en el ránking FIFA y las distinciones como el The Best en jugador, arquero, entrenador e hinchada; el balón de oro, el guante de oro y el mejor jugador joven en Qatar 2022.
Las otras selecciones que habían alcanzado una estadística similar habían sido Brasil y Francia, pero con varias salvedades. En primer lugar, ninguna de las dos selecciones obtuvo un trofeo intercontinental como es la Finalissima, que volvió a disputarse recientemente, aunque sí la extinta Copa Confederaciones. En segundo, en el caso del último título de la Canarinha, existía el Balón de Oro para un solo jugador y no los premios The Best, que diversifican la elección, y el galardón se lo quedó Ronaldo en 2002.
El caso francés es más comparable y similar, ya que tras la Copa del Mundo del 2018 los galos terminaron 1° en el ránking FIFA, pero en los premios de esa Copa del Mundo y en los The Best Argentina saca ventaja. Tanto el Balón y el Guante de Oro del Mundial, como el premio The Best a mejor jugador no fueron para los campeones; uno se lo quedó Luka Modric, el otro Thibaut Courtois, y el premio a la hinchada fue para la Selección de Perú, todos galardones que la Albiceleste sí pudo conseguir en 2022.
Los únicos premios que el equipo de Scaloni no pudo ganar fueron la Bota de Oro en Qatar (se la quedó Mbappé) y el mejor gol del torneo, obtenido por Richarlison.
Source: espn