Cirque du Soleil makes its grand return to Houston, Texas
The all-time classic Alegría will be presented under the Big Top at Sam Houston Race Park
Starting November 13, 2021
Tickets available to Cirque Club members as of today.
General on-sale starts June 21, 2021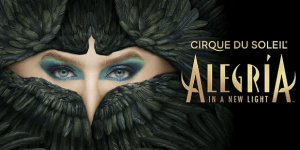 Cirque du Soleil is proud to announce the reopening of its acclaimed production Alegría in Houston, Texas, after being closed for more than a year due to the global pandemic. Starting November 13, 2021, audiences are invited under the Big Top at Sam Houston Race Park to experience the purely theatrical magic of Alegría; an entirely redesigned fan favorite.
"We know our artists are ready to get back on the road and fans are eager to reconnect at events," said Daniel Lamarre, President, and CEO of Cirque du Soleil Entertainment Group. "More than 450 days have passed since our stages around the world went dark, and we have been anxiously waiting for this moment. I just can't wait to see the Alegría lights go back on! Thank you to all of our employees for their perseverance, flexibility, and creativity. Intermission is over."
Iconic Alegría returns
Cirque du Soleil has brought wonder and delight to more than 200 million spectators in more than 60 countries since its beginning in 1984. Today, Cirque du Soleil rises up to continue its mission to cultivate creativity and share the hope and joy that live entertainment brings.
Beloved by fans around the world, iconic Alegría comes back reimagined to share its timeless story once more. An uplifting immersive experience, Alegría whisks audiences away to a mystical world sprinkled with visual poetry and acrobatic extravagance.
At the heart of a once-glorious kingdom that has long lost its king, Alegría witnesses the power struggle at play between the old order and a new movement seeking change in hopes of a brighter tomorrow.
With its unforgettable soundtrack, exciting acrobatics, surreal costume designs, vibrant sets, and playful humor, Alegría joyfully touches the soul and lives up to its global reputation of quintessential Cirque du Soleil spectacle.
For more information, visit cirquedusoleil.com/alegria.
Ticket Information 
Tickets for Houston performances of Alegría are available online, exclusively to Cirque Club members, starting today. For a free and easy subscription, visit cirqueclub.com. General on-sale starts on June 21, 2021, at cirquedusoleil.com/alegria.
In A New Light
First premiered in 1994, Alegría ('joy' in Spanish) helped define the signature style of Cirque du Soleil worldwide by mesmerizing over 14 million spectators in 255 cities in over 19 years of touring. Its Grammy-nominated theme song 'Alegría' is still today the most-listened-to Cirque du Soleil track on streaming platforms.
In 2019, in celebration of its 25th anniversary, Alegría was restaged in a whole new light, ensuring that all its components – stage direction, music, acrobatics, sets, costumes, lighting & make-up designs – would be as inspiring for today's audiences as they were at the time of the original creation. Reenergized by a cast of 50 acrobats, clowns, musicians, and singers, Alegría remains timeless and imbued with a joyous magical feeling.
The revival of Alegría is Cirque du Soleil's 44th original production since 1984, and its 19th presented under the Big Top.
Follow #Alegria and #cirquedusoleil on social media: Facebook | Twitter | Instagram | YouTube