Celebrate Asian-Pacific Heritage Month at the Bracewell Neighborhood Library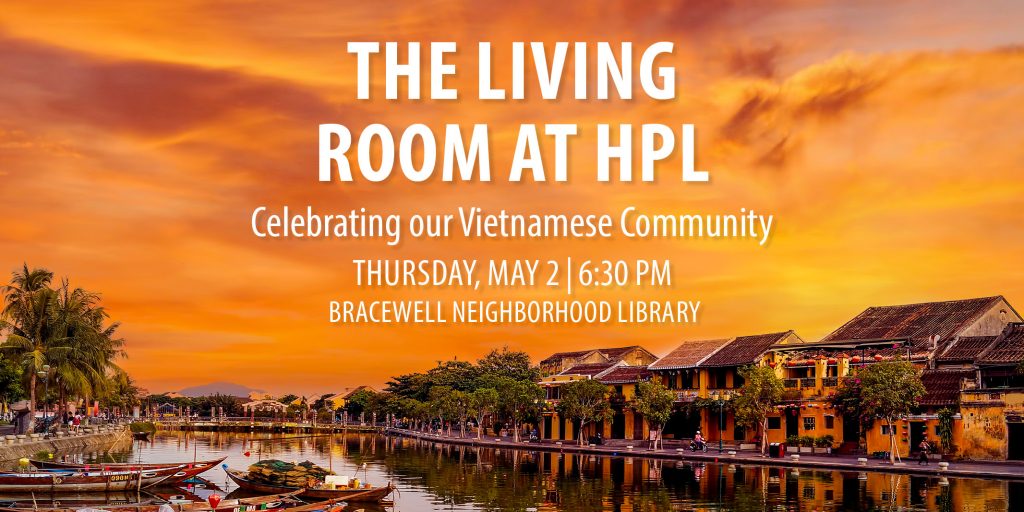 WHAT: As we celebrate the Asian-Pacific Heritage Month, we want to recognize the Vietnamese community that we serve. Come join us as we celebrate the Vietnamese culture with food, fellowship, and activities!

This event is part of the Library's Living Room Series Programs. This event is free and open to the public. For more details visit: www.houstonlibrary.org

WHEN: Thursday, May 2, 2019 | 6:30 PM

WHERE: Bracewell Neighborhood Library | 9002 Kingspoint Dr., 77075 | 832-393-2580

ADDITIONAL INFORMATION:
About the Houston Public Library
The Houston Public Library (HPL) operates 35 neighborhood libraries, four HPL Express Libraries, a Central Library, the Houston Metropolitan Research Center, the Clayton Library Center for Genealogical Research, The African American Library at the Gregory School, and the Parent Resource Library located in the Children's Museum of Houston. With more than eight million visits per year in person and online, HPL is committed to excellent customer service and equitable access to information and programs by providing library customers with free use of a diverse collection of printed materials and electronic resources, Internet, laptop and computer use, and a variety of database and reference resources with live assistance online 24/7.
 
For further information, visit the Houston Public Library at www.houstonlibrary.org, on Twitter @houstonlibrary, on Facebook – houstonlibrary or call 832-393-1313.