Buffalo Bills Make Bold Move: Ken Dorsey Out as Offensive Coordinator, Joe Brady Interim Replacement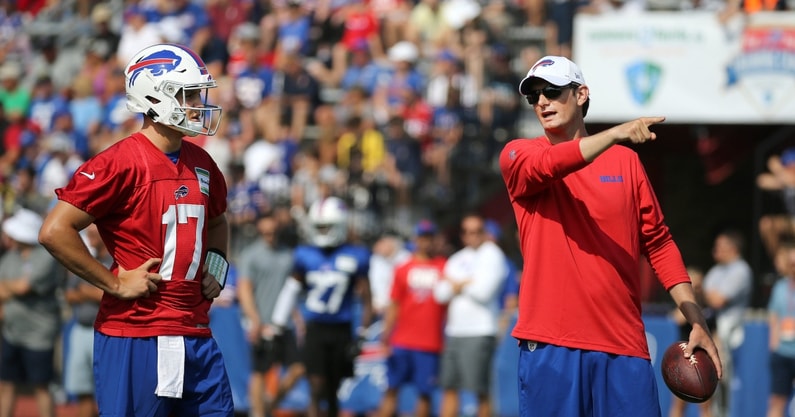 Following the Buffalo Bills' recent struggles on the offensive front, a significant change was implemented less than a day after their defeat to the Denver Broncos.
On Tuesday, the team officially announced the dismissal of offensive coordinator Ken Dorsey. Stepping into the interim offensive coordinator role is Joe Brady, the current quarterbacks coach, for Sean McDermott's team.
Dorsey had been promoted from his position as the Bills' passing game coordinator and quarterbacks coach in 2022, filling the void left by Brian Daboll, who took on the head coaching position with the New York Giants. During Dorsey's 28-game tenure, the Bills maintained their ability to accumulate yards and points. In the 2022 season, Buffalo secured the second spot in the NFL for yards and points. However, in the first 10 games of 2023, the Bills currently stand at seventh in yards and eighth in points.
Struggling with inconsistency and challenges in moving the ball, the Bills' offense has faced difficulties sustaining a reliable ground attack and has grappled with turnovers. Throughout this season, the Bills' offensive performance often appeared disjointed, lacking a cohesive strategy.
The primary source of Buffalo's struggles has been the prevalence of costly turnovers, with the team giving away possession four times, including two interceptions and two lost fumbles, in the recent game against the Broncos. Notably, this marked the second instance this season where Buffalo experienced four or more turnovers, bringing their season total to 18, tied for the second-highest in the NFL.
Ultimately, Dorsey, who had previously interviewed for a head coaching position in Carolina, bore the brunt of the team's challenges. The question now arises as to whether this coaching change will be sufficient to revive a Buffalo team that has fallen short of expectations, especially considering their demanding schedule in the remaining stretch of the season.
The Bills will move forward with Brady assuming the play-calling duties for the final seven games of the season. Brady gained prominence in 2019 as the passing game coordinator for LSU during their successful run to the College Football Playoff national championship with Joe Burrow. His subsequent tenure as the offensive coordinator for the Carolina Panthers, spanning two seasons under Matt Rhule, saw the team's offense ranking 21st and 24th in yards and points in 2020, and 30th and 29th in 2021.
Following Monday night's loss, which dropped Buffalo to the 10th spot in the AFC, there was a palpable sense of urgency in Western New York. McDermott's decision to part ways with Dorsey reflects a strategic move to inject momentum into a Bills team that has been struggling to find its footing.