Bodies removed from site of deadly Marathon Oil construction collapse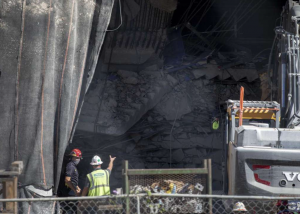 Crews on Wednesday recovered bodies of the three construction workers killed in a collapsed stairwell at the future Marathon Oil Corp. headquarters, fire officials said.
Families of the workers who died in the Monday collapse began gathering near the recovery site as demolition crews and construction contractors helped to stabilize the building, remove debris and establish an access point.
"It's unfortunate it's taken this long to get them out, but we want to ensure the safety of our members as we bring closure to the families," said Assistant Fire Chief Michael Mire of the Houston Fire Department.
Engineers had to first determine the cause of the collapse before HFD on Tuesday assessed the structural integrity of the building to make sure it was safe to send rescuers inside. The cause has not been disclosed — HFD has deferred to the contractors and Occupational Safety and Health Administration, which was on site Monday.
A portion of the precast stairwell in the new office tower collapsed around 1:30 p.m. Monday and crushed the three workers and injured another. The structural integrity of the building is intact, officials said.
Houston police, Pearland police, 20 rescue technicians and HFD's hazardous materials team were at the building Wednesday and were being assisted by SouthEast Texas Regional Advisory Council. Crews had to break and cut the steel and concrete stairs to access the victims, creating a technical challenge for the rescuers involved, Mire said.
"It's been a very difficult operation, because each of those stairs weighs approximately 14,000 pounds," he said.
Crews removed the bodies from the approximately three-story pile of debris before 2 p.m., Mire said. Fire officials planned to ensure that everyone was accounted for before they closed out the scene, although the victim count remained at three.
The Harris County Institute of Forensic Sciences transported the bodies in the afternoon. The victims have not been publicly identified.
In a release Wednesday evening, the Houston Fire Department said it had "cleared the scene and turned the property back over to the owners (Marathon Oil) and Harvey Builders."
Chris Lechner, executive director of the Precast Concrete Manufacturers' Association in New Braunfels, said failures with precast products are rare.
"They are plant manufactured under exhausting specifications and then transported to the jobs site," Lechner said. "They're built to be assembled."