Biden 'confident' of reaching deal with McCarthy to avoid US debt default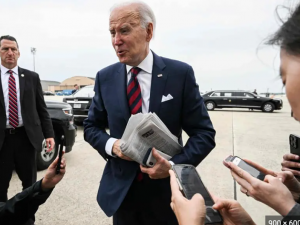 Joe Biden and the Republican speaker of the US House, Kevin McCarthy, said on Wednesday they thought a deal to avoid a US debt default was in reach.
Speaking at the White House, Biden said: "I'm confident that we'll get the agreement on the budget, that America will not default.
"We're going to come together because there's no alternative way to do the right thing for the country. We have to move on."
On Tuesday, Biden and McCarthy met for an hour at the White House, a meeting the president called productive.
Biden, who has faced some criticism for his handling of the issue, is due to travel to the G7 summit in Japan but has cut the trip short to pursue a debt ceiling deal. Plans to visit Papua New Guinea and Australia were postponed.
On Wednesday, the president said: "I'll be in constant contact with my team while I'm at the G7 and be in close touch with speaker McCarthy and other leaders as well.
"What I have done in anticipation that we won't get it all done till I get back is, I've cut my trip short in order to be [here] for the final negotiations and sign the deal with the majority leader."
Biden said he expected to return to Washington on Sunday and hold a press conference. Biden's press secretary, Karine Jean-Pierre, told CNN that Biden's decision to cut short his Asia trip sent "the message that … America does not default on its debt".
Also on Wednesday, McCarthy spoke to CNBC.
He said: "I think at the end of the day we do not have a debt default. The thing I'm confident about is now we have a structure to find a way to come to a conclusion. The timeline is very tight. But we're going to make sure we're in the room and get this done."
A failure to honour US debts could have catastrophic impacts on the US and world economies. The US treasury secretary, Janet Yellen, has indicated that without agreement, default could come as early as 1 June.
Republicans want sharp spending cuts. Democrats say Republicans should agree to a "clean" debt bill, the sort they repeatedly passed under Donald Trump. But Biden also seemed ready to make some compromises, including some work requirements on federal programs, though not on healthcare programs.
Financial markets appeared to be buoyed as McCarthy joined the Republican Senate leader, Mitch McConnell, and the White House in pledging the US would not fail to pay its debt obligations. US stock indexes opened higher on Wednesday.
Biden was widely reported to have agreed to a key demand from McCarthy: that negotiations be carried out by a small group of aides, removing, for now, Democratic leaders in the House and Senate.
Politico said Biden was now represented by the White House counselor Steve Richetti, budget director Shalanda Young and legislative affairs director Louisa Terrell. Garret Graves, a Louisiana Republican and McCarthy ally, was leading the Republican team.
McCarthy, who controls the House by just five seats, is widely seen to be at the mercy of the far right of the Republican caucus. But according to Politico, Graves "isn't a bomb-thrower or grandstander, and Democrats told us they've seen him as a steady hand in other bipartisan policy negotiations".
Politico reported that the new negotiators "huddled on Capitol Hill last night to start negotiations, reflecting the time crunch as the clock ticks toward a possible 1 June default". Punchbowl News said "full-scale negotiations [were] set to kick off" on Wednesday.
It will not be a simple process. The negotiators, Punchbowl said, had "a very difficult task ahead of them. They need to find a deal that can pass Congress in the next 15 days. To do that, they'll have to come up with a framework over the next few days.
"This is a massive lift that will require deft negotiating, cooperation from all sides and incredible flexibility on behalf of our national political leadership. Basically everything that Congress hasn't done at all this year and traditionally isn't very good at."
House Republicans are demanding $4.8tn in spending cuts, mostly to Democratic priorities including welfare and environment spending. Demonstrating the political vice in which Biden finds himself, progressives have warned him not to give in.
"It's really important we don't give ground," Pramila Jayapal, chair of the Congressional Progressive Caucus, told Axios. "We have made it clear … that if they give on these core Democratic values, there will be a huge backlash."
Jean-Pierre told CNN that Republicans "want to cut healthcare, they want to increase poverty, and it's not going to save much money".
Hakeem Jeffries, the Democratic House minority leader, also spoke to CNBC.
"It creates uncertainty that's bad for the American people. It's bad for the economy. That's bad for business," he said. "And so our view has consistently been that any resolution of this matter has to be at least two years in nature. And that was a position that was once again made clear in the meeting yesterday."
Punchbowl said: "If Democrats want to hike the debt limit until 2025, McCarthy is going to demand a lot in return."
Jeffries insisted: "Our view is that if we're going to have a thoughtful conversation about deficit reduction, that conversation can't simply be one-sided, based on the rightwing ideological perspective of a handful of extreme Maga Republicans.
"That's not how you make public policy.".