Austin firefighters, paramedics receive first COVID-19 vaccinations
Texas: More than 1.3 million cases have been reported in the state, and more than 24,900 people in Texas have died, according to the Texas Department of State Health Services.
Central Texas counties: 

Travis County: At least 44,796 cases have been reported and at least 516 people have died. At least 40,236 people have recovered from the virus.
Hays County: At least 8,759 confirmed cases have been reported and at least 119 people have died. At least 7,378 people have recovered from the virus.
Williamson County: At least 17,220 cases have been reported in the county and at least 187 people have died. At least 15,868 people have recovered from the virus.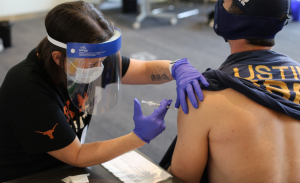 5:10 p.m. – On Saturday, Austin firefighters and paramedics began receiving their first doses of the COVID-19 vaccine. Fire specialist Eli Tennefrancia became the first member of the Austin Fire Department to receive his shot, AFD said.
The vaccine shipments were expected later this month, but thanks to Dell Medical School, 25 AFD firefighters and a corresponding number of paramedics and EMTs from Austin-Travis County EMS received theirs on Saturday. They were among the first in the state to do so.
"The men and women of the Austin Fire Department have been serving on the frontlines of this pandemic since the beginning," said Fire Chief Joel G. Baker. "We're excited to be on the frontlines again with the rollout of the COVID-19 vaccine so that we can continue to safely serve the citizens of Austin in their times of need."
In addition to AFD and ATCEMS members getting vaccinated on Saturday, Austin Public Health Interim Health Authority Dr. Mark Escott received a vaccination.
More vaccinations are expected throughout the weekend and into next week.
"We're lucky to have such a close working relationship with our hospital partners. To be invited to get vaccinations earlier than expected was an opportunity we could not and would not pass up," said Ernesto Rodriguez, chief of Austin-Travis County EMS. "It really is a blessing to have such a good partnership and work together to ensure the safety of all the health care workers in our area. Getting the vaccines ahead of our expected timeline means that our hardworking EMTs and paramedics will be able to safely care for Austin-Travis County residents all the sooner."
8 a.m. – Two Fourth Street bars have recently announced temporary closures due to COVID-19 cases among employees. On Dec. 16, Rain On 4th announced that it would be closed this weekend after an employee tested positive for the virus. The bar said before it reopens, all staff and entertainers will have to provide multiple negative test results over an extended period.
On Dec. 11, Oilcan Harry's had announced one of its entertainers had tested positive for COVID-19 after working at the bar on Dec. 6 and being there again on Dec. 9. Oilcan Harry's said all employees will get tested prior to returning to work when the bar reopens.