EXCLUSIVE – Appeals Court upholds 20-year sentence for man who gunned down prominent attorney James Garza over parking space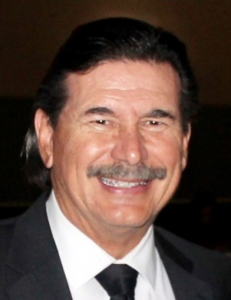 A Texas appeals court upheld the murder conviction and 20-year prison sentence for a man who fatally shot Houston-area attorney James Garza over a disabled parking space in 2017, Harris County District Attorney Kim Ogg announced Monday.
"This was a senseless murder over a petty complaint," Ogg said. "The killer confronted a man over a parking space for people with disabilities after the post office was closed for the day, then claimed self-defense after he opened fire."
William Anthony Hall, 73, was sentenced to 20 years in prison in 2018 after being convicted for the May 2017 murder of 67-year-old attorney Garza.
The lawyer, who did not have a disabled parking sticker, had stopped to pick up his mail from his post office box at the post office on Broadway.
Hall, who was licensed to carry a concealed handgun, parked in one of the other disabled parking spaces and then confronted the attorney about parking his car in a space reserved for motorists with disabilities.
Even though he initiated the confrontation, Hall told police he shot Garza after feeling threatened during the argument. He said Garza had become physical with him, so he shot him once in the chest with a handgun.
However, an envelope Garza was holding had a bullet hole in it, indicating he was holding it against his chest when he was shot, not swinging a fist at Hall.
"The Houston Police Department, our office and our prosecutors did a stellar job in presenting the facts of this case to a jury," said Ruben R. Perez, Bureau Chief of Special Crimes. "We especially wish to thank the victim's family for their patience as the case made its way through the judicial system.  Ultimately, justice was served."
Hall was acting as a vigilante when he took the law into his own hands for an offense that is a minor misdemeanor, Ogg said.
"Owning a gun comes with an enormous amount of responsibility," Ogg noted. "Harris County jurors are smart, and they know you can't start a fight and then claim self-defense when you kill someone."
The case was prosecuted by Assistant District Attorney Mary McFaden.
Hall appealed the verdict and prison sentence, and the 14th Court of Appeals in Houston recently affirmed both.
Born and raised in Texas City, Garza was well-known in the community. He was drafted and served in the Army as a reconnaissance photographer during the war in Vietnam. After returning home, he worked as a typesetter at the Houston Chronicle and went to night school to earn his business degree at the University of Houston, then a law degree from Texas Southern University.
He became general counsel of the Chronicle, a position he held until the Hearst Corporation bought the Chronicle in 1987. He had a successful private law practice and spent his leisure time playing golf.
Article updated: 02/15/22