ACA Armstrong receives TDCAA Civil Practitioner of the Year award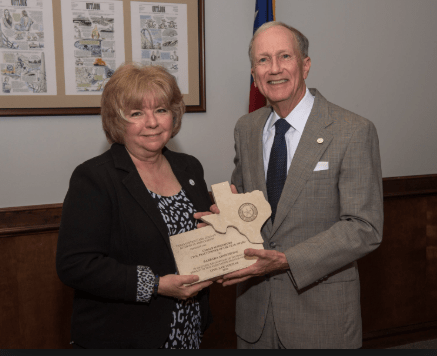 Assistant County Attorney Barbara Armstrong received the 2019 Texas District and County Attorneys Association's Gerald Summerford Civil Practitioner of the Year award during the annual TDCAA Civil Law Seminar in San Antonio, Wednesday, May 8.
Armstrong has been with the Office of the Harris County Attorney since 2006 where she has served as an Assistant County Attorney for the Hospital District, a Managing Attorney for the General Counsel Practice Group and was recently appointed an Executive Managing Attorney to assist the County Attorney with office-wide policy matters, managerial duties, and client relations.
"Barbara Armstrong reflects the spirit of public service and commitment to excellence that our Office exemplifies," County Attorney Vince Ryan said, "Our Office is pleased to be a part of the TDCAA and participate in its many programs that benefit the people of Texas."
"It means so much because it's your colleagues saying they consider you to be someone who deserves to be awarded based on your work," said Armstrong.
The Gerald Summerford award recognizes Texas lawyers with long and distinguished careers who practice in the civil arena. The award is named for Gerald Summerford who served as an assistant district attorney in Tarrant County from 1972 until 1994 and who was known throughout the state for his expertise in contract law and his colorful presentations filled with jokes and stories.
Armstrong joins other HCAO attorneys who have previously received the award including Assistant County Attorneys Eileen Begle, Rose Garcia, and Lisa Hulsey.
The Harris County Attorney's Office represents the County, its departments, elected and appointed officials, and employees in all civil matters that involve county business. The Office represents the Harris County Hospital District, the Harris County Flood Control District, the Harris County Appraisal Review Board, and the Greater 911 Emergency Network, which are separate legal entities. The Office also represents the State of Texas in mental health commitments and children's protective services cases and assists Harris County in administration of the guardianship program, which cares for elderly and disabled individuals who are unable to care for themselves.