A COMMUNITY FORUM SHOWCASING FUTURE HISPANIC LEADERS
What:
Gilbert Andrew Garcia, Garcia Hamilton & Associates, and ¡Que Onda! Magazine is having a forum to showcase many of the future Hispanic leaders. Some are running for office this November 2023. Each Hispanic Leader will have time to speak about their community impact, their background and what they would like to see in the City of Houston. The audience will have the opportunity to talk and ask speakers questions at the end.
The community can listen live to Aliento Radio on 101.7 FM and 1540 AM. You can read about the Forum it in the next issue of ¡Que Onda! Magazine.
The first 100 people will receive 2 FREE tacos and will be eligible for up to $100 in door prizes. The winner must be present to win.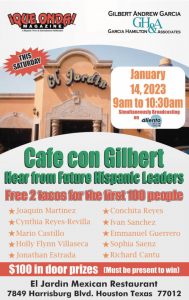 When:
January 14, 2023
9am to 10:30am
Where:
7849 Harrisburg Blvd., Houston, TX 77012
Who:
Hispanic Future Leaders
Cynthia Reyes- Revilla

Candidate for Houston City Council District H
Lifelong resident of District H, dedicated mother of 2 and decades of community development experience

Mario Castillo

Candidate for Houston City Council District H
Executive Director of Your Houston a non-profit focused on Quality-of-life issues that affect Houstonians

Holly Flynn Villaseca

Former elected Trustee for Houston ISD (5 years of experience)
Former Board member for the Mayor's Hispanic Advisory Board (5 years of experience)

Jonathan Estrada

Pasadena Council Member for District E (Seeking re-election)
Senior Plan Analyst for the City of Houston (9 years of experience)
Ivan Sanchez

Candidate for Houston City Council District J
Founder and President of the Houston Millennials
 

Conchita Reyes

President of CR Financials Group
Board Member of the Morales Memorial Foundation

Emmanuel Guerrero

Candidate for Pasadena City Council District C
Director of National Relations ALPFA

Sophia Saenz

Candidate for South Houston Mayor 2023
Music Education and Choir Director for Pasadena ISD

Richard Cantu

President of Harris County Department of Education Board of Trustees
Executive Director Hawes Hill & Associates

Joaquin Martinez

Candidate for Houston City Council District I
Currently the Director of Community Affairs for District I Councilmember Robert Gallegos (10 years of experience)