Texas Democratic Members Walkout of Texas State House: A Courageous Act for Justice!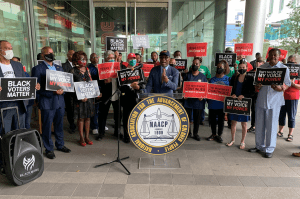 Tonight, the Texas Voters Forward Coalition and Houston NAACP applaud the Texas Democratic Caucus's action to break quorum in the Texas State House. The organized walkout, by all but one Black Caucus member, served as a peaceful protest against Senate Bill 7.
The provisions in SB 7 create modern, Jim Crow voter suppression laws in the state of Texas. The harmful bill would legalize racism and discrimination making it more arduous for Blacks, Hispanics, the disabled, the elderly, and the poor to register and vote.
The bill, which died because of the walkout, contained voter suppression tactics including:
Limits to voter registration, absentee voting, weekend voting, and polling hours
Make it more challenging for folks with disabilities to vote by mail
Discourages others from providing anyone a ride to the polls
Gives the state indiscriminate power to overturn elections
Encourages voter intimidation by authorizing partisan poll watchers to stand over voters while voting, taking away the constitutional right of privacy
Already, Texas leads the nation as the hardest state for voter registration and participation. This proposed law is filled with severe restrictions and intimidation tactics to control election outcomes. Not only are these efforts anti-democratic and unconstitutional they are overtly immoral.  We know this fight is not over, as Governor Greg Abbott tweets that the issue will be brought back up during a special legislative session later this year.
The Texas Voters Forward Coalition stands in solidarity with the walkout. We pledge our unwavering support in the fight to protect the sacred right to vote by all eligible voters.
Tonight's action by the Texas Democratic Caucus deserves the respect and support of every Texan. It is indeed righteous and just. May we all rise to the occasion to stand against wrong and defend what is right.
Dr. Martin Luther King, Jr wisely taught that there comes a time when history calls us to abandon what's comfortable and convenient to do what is right. These leaders did that tonight.