500 days later, it is clear that fear of a free Ukraine fuelled Putin's war fever
As the world marked a tragic milestone on Saturday, we should remind ourselves that Ukraine's progress as a full-fledged democracy shook the seat of power in Moscow to its core, Aleksandar Đokić writes.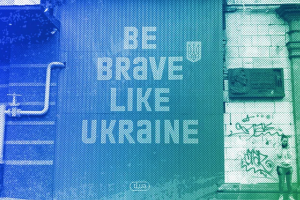 On Saturday, the world marked a tragic milestone: the 500th day of Russia's full-scale invasion of Ukraine, an all-out escalation of the Kremlin's war against Ukraine that has been taking place since 2014, when Moscow troops first entered Crimea and then the Donbas regions of Donetsk and Luhansk.
Even after all this time, some Europeans still struggle to understand the reasons for Vladimir Putin's act of aggression.
Yet, the main driving force is clear: Ukraine's progress towards a full-fledged democracy had shaken the seat of power in Moscow to its core.
NATO enlargement was never the issue
Some might recall that, in an ominous essay published on 12 July 2021, Vladimir Putin himself labelled Ukraine as an "anti-Russia".
The essay itself, mostly disregarded at the time, turned out to have been the ideological and conceptual blueprint for the invasion which would follow only half a year later.
The main argument that Putin made — and that became the framework for his justification of the invasion — was that Ukraine was being prepared as a "staging ground against Russia" by NATO and the collective West.
The "Ukraine is 'anti-Russia'" trope was then reiterated many times by Russia's high-ranking officials since the onset of the 2022 invasion.