5 Outdoor Movie Theaters Perfect For a Cozy Night Out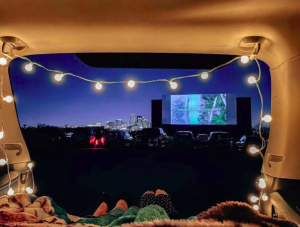 IT'S FALL IN HOUSTON, which means days are getting shorter, and the weather is finally starting to cool down. Instead of rushing indoors to cozy up with your softest blanket, only to fall asleep to whatever trending series or film is on Netflix, opt to stay outdoors for a cinematic night under the stars. From nostalgic drive-ins to family-friendly parks, here are five outdoor movie theaters in and around Houston to check out this season.
Rooftop Cinema Club Uptown
Transform your cinematic experience with scenic city skylines, dreamy sunsets, starlit evenings, and delicious refreshments at Rooftop Cinema. This open-air theater provides guests with state-of-the-art wireless headphones that help you enjoy every last word in a film. Also, if you just so happen to be an astrology lover, the cinema has started a new tradition where they screen movies made by/starring that specific season's zodiac sign! Upcoming screenings at Rooftop include Candyman, Grease: Sing-Along, Coco, and more.
Showboat Drive-In
If you're looking for a traditional outdoor movie experience, the Showboat drive-in, located 45-minutes away in Hockley, Texas, is the way to go! Choose to enjoy the film from the comfort of your own vehicle or bring a comfy folding chair to enjoy the show on the lawn. Most Showboaters go as far as to bring couches to the drive-in since guests are allowed to choose their own adventurous way to enjoy the film. However, you choose, Showboat streams everything from cult classics like Beetlejuice and newer releases like Halloween Ends, Smile, and Black Adam.
Moonstruck Drive-In
If Moonstruck gives you Showboat vibes, it may be because the old-fashioned theaters share a co-owner. Just like Showboat, guests have the choice to sit in or outside of their car; however, sitting on top of your vehicle is not allowed. Outside food is also prohibited, but there's an on-site concession stand available, as well as a rotation of food trucks every Saturday night. Aside from streaming blockbuster movies, Moonstruck also hosts comedy shows, concerts, and film festivals.
Market Square Park
Historically recognized as the heart of community activity, Market Square Park continues to live up to this claim with eventful movie nights for the whole family to enjoy. Although it's not your typical drive-in, Market Square does promise free and entertaining films and beautiful starry nights. Grab your lawn chairs, cozy blankets, a couple of snacks, and non-alcoholic beverages to bring to the park. Or head over to their nearby Niko Niko's for drinks and delicious Greek and American food. Upcoming shows at the park will be Pitch Perfect, Lightyear, Home Alone, and The Polar Express.
Levy Park
This park is known for its inclusive space, where many can connect, experience, and play. Levy Park frequently hosts family movie nights for all to enjoy for free. Later this November, they'll be screening The Santa Clause at the event pavilion section of the park. The film screening will be presented by Texas Children's Hospital. Guests are prohibited from bringing outside furniture, but blankets and park chairs at the pavilion are available for public use.
Source: houstoniamag