$450 million expansion at Hobby Airport could start next year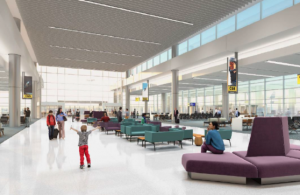 Changes are coming to William P. Hobby Airport in southern Houston, and they'll begin this year.
Southwest Airlines, which already has a presence at Hobby, will begin a $450 million expansion as early as next year. The expansion will more than double the number of gates in the western concourse from five to 12, said Jim Szczesniak, chief operating officer for the Houston Airport System.
Six of the new gates will be for Southwest flights, and the seventh will be for other airlines, he said.
The expansion will allow Hobby to potentially take guests to more destinations. Today, Hobby services 83 destinations, which is important to residents who live on the south side of Houston, Szczesniak said.
Besides the gates, the expansion will add baggage claim requirements, leading to a necessary expansion of the airport's baggage claim hall, Szczesniak said.
Szczesniak said increasing demand and population have led to the expansion.
"We've got an attractive market, and then you've got an existing attractive airport," he said, noting Hobby is the only five-star airport in North America, as rated by Skytrax, an international airport-rating organization.
The construction will not affect normal operations, Szczesniak said.
Additionally, Hobby's restaurants are undergoing change.
In March, two new vendors won 10-year contracts with the city to open 20 new restaurants at the airport.
The restaurants will replace Pappas Restaurants, which have been open at the airport for over 20 years. Pappas Restaurants, including Pappadeaux Seafood Kitchen, Pappasito's Cantina, Pappas Burgers and Pappas Bar-B-Q, have already closed in preparation for the new restaurants, Szczesniak said.
The new restaurants will begin opening this fall through late 2024. While some of the restaurants are chains, such as Chick-fil-A and Dunkin', many are local eateries, such as The Spot, Spindletap Brewery and Killen's Barbeque, Szczesniak said.
"You'll have your mix of national brands, … but then you're going to have that mix of local stuff we're going to have," he said.
Szczesniak said the investment happening in Houston right now is great. The Houston Airport System is responsible for 190,000 jobs and $36.4 billion in annual economic activity, he said.
Source: abc13.com