2023 Houston Art Car Parade: Here's what you need to know about Saturday's parade, related events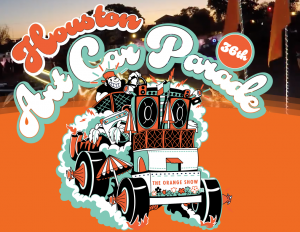 The 36th annual parade featuring decorated automobiles is scheduled for Saturday afternoon. A variety of related events, including a sneak peek, celebratory ball and awards ceremony, will be held beforehand and afterward.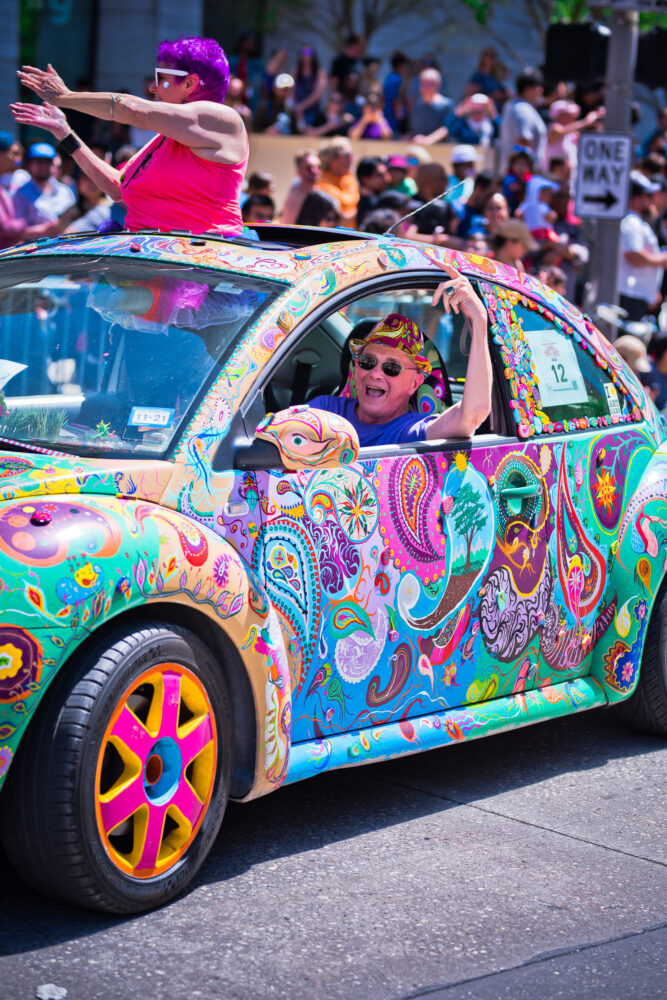 One of Houston's most unique and beloved events is back this week, when colorful and creatively decorated cars and trucks will cruise around the city.
The Orange Show's 36th Annual Houston Art Car Parade & Festival is scheduled for 2 p.m. Saturday in and near downtown, with more than 250 participating vehicles and hundreds of thousands of spectators expected to gather. There are a series of related events both before and after the parade – many of which are free, including the parade itself.
The activities surrounding the Saturday afternoon parade include outreach and sneak peek events on Thursday, a ball on Friday night, VIP and kid-friendly events on the day of the parade and an awards ceremony on Sunday.
This year's parade grand marshal is Marilyn Oshman, the founder and chairperson of the Orange Show Center for Visionary Art, which puts on the parade. This year's featured car artists are Las Vegas-based Henry Chang, Randy Grubb of Oregon and Texan Rae Ripple of former Netflix show "Metal Shop Masters."
For the first time, the Art Car Parade also is designating three local honorees who have contributed to Houston's creative communities – painter and sculptor Sharon Kopriva, Northside High School art teacher Anna Bass and the Mafrige family of local business leaders and philanthropists who have supported the Orange Show Center for Visionary Art.
Below is a rundown of the remaining art car events, which continue Thursday:
Thursday, April 13
Main Street Drag | 9 a.m.-1 p.m., multiple locations
More than 100 of the participating art cars will create a series of mini parades with stops at Houston schools, hospitals, nursing homes and other places with people who might not be able to attend Saturday's parade. The idea is to "bring the parade to the people," according to the Orange Show. A total of 25 locations will be visited, including 15 Houston ISD schools and the BakerRipley Ripley House, where the artists will interact with students and residents and discuss their creations and sources of inspiration.
These events are not open to the general public.
"What we've been telling people is to keep an eye out on the streets. You may see cars driving by," said Jonathan Beitler, a spokesperson for the Orange Show.
Art Car Sneak Peek | 6-10 p.m. at Discovery Green, 1500 McKinney St.
This free, family-friendly event will provide a preview of Saturday's parade, with more than 100 of the participating vehicles and their artists expected to be on hand. Among the cars featured in the sneak peek will be the 21 creations of Houston ISD students, whose art cars include a tribute to Texas blues legend Stevie Ray Vaughan and the "Black Panther" film series.
There also will be live music, food and drinks and art activities for children.
Friday, April 14
The Legendary Art Car Ball | 6-11 p.m. at The Orange Show World Headquarters, 2401 Munger St.
This pre-parade celebration will feature food and drinks, elaborate costumes, live music, interactive and performance art and a selection of "illuminated and fire-breathing art cars," according to the Orange Show. Featured performers are New Orleans rap cabaret musician Boyfriend, electro-pop performer Caleb de Casper of Austin, Houston-based DJ Amarji and Free Rads 2nd Line.
General admission tickets are $40, and VIP passes are $150. They can be purchased online at https://www.thehoustonartcarparade.com/art-car-ball. The event is limited to ages 18 and up.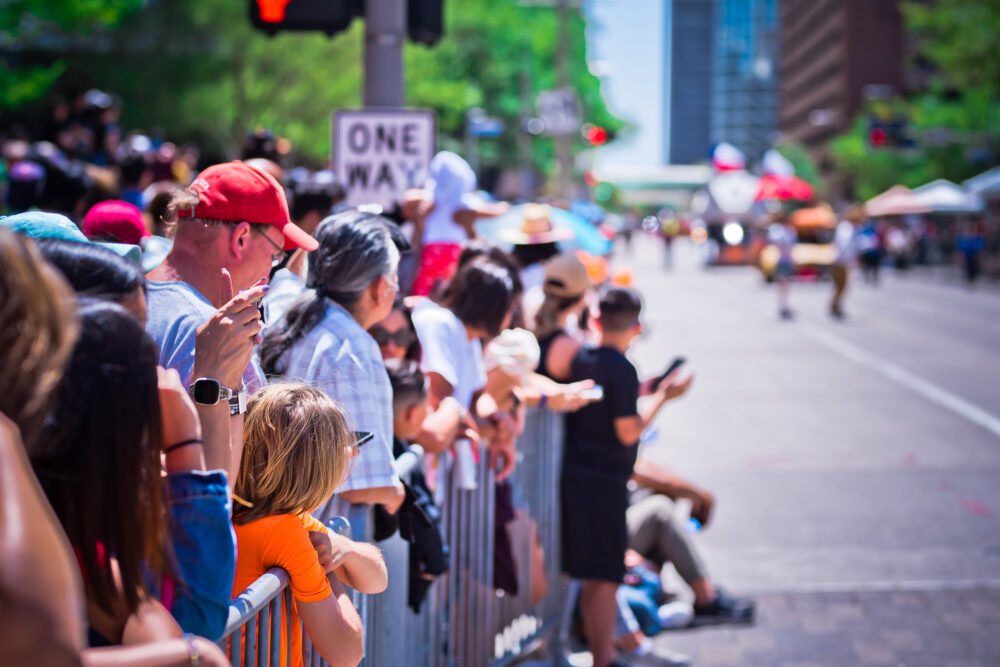 Saturday, April 15
The Lineup Party | 11 a.m.-2 p.m., Allen Parkway at Heiner Street
This free event just west of the Interstate 45 overpass, and sponsored by Splice Records, Saint Arnold Brewing Company and River Revival Music Festival, will allow visitors to see all the participating art cars as they line up for the parade. Food trucks and beverage booths will be on hand, with live music, games and prizes also on tap.
The H-E-B Kids Creative Zone | 11 a.m.-2 p.m. at Sam Houston Park, 1000 Bagby St.
A series of family-friendly performances highlight this free event near the parade's starting location, where there will be food, beverages, children's entertainment and interactive art projects and workshops. The lineup of performers includes the Houston Young Symphony, Uncle Jumbo, a mariachi band and folklorico dancers.
The VIPit Experience | noon-4 p.m. at Hermann Square Park at City Hall, 901 Bagby St.
Individual tickets start at $175 for this opportunity to watch the art car parade in style as attendees will have up-close and unobstructed views along with access to reserved shaded seating, complimentary nearby parking, an open bar and complimentary bites from more than a dozen local chefs and restaurants. There also will be swag bags and interactive art activities for adults and children alike.
Tickets for the VIPit Experience can be purchased online at https://orangeshow.ticketspice.com/2023-vipit-experience.
The Orange Show's 36th Annual Houston Art Car Parade | 2 p.m. along Allen Parkway and Smith Street
Attendees are encouraged to arrive early to secure their spot along the parade route, which will be dotted with food trucks, beverage and merchandise stations and entertainment. Parking can be found in downtown garages or on side streets along Allen Parkway.
The parade starts downtown at the intersection of Bagby and Dallas streets, proceeding southeast on Bagby, northeast on Smith Street, northwest on Walker Street, southwest on Bagby and then west on Allen Parkway until it reaches Waugh Drive. The parade is expected to last about two hours, with included streets reopening for regular traffic at 5 p.m.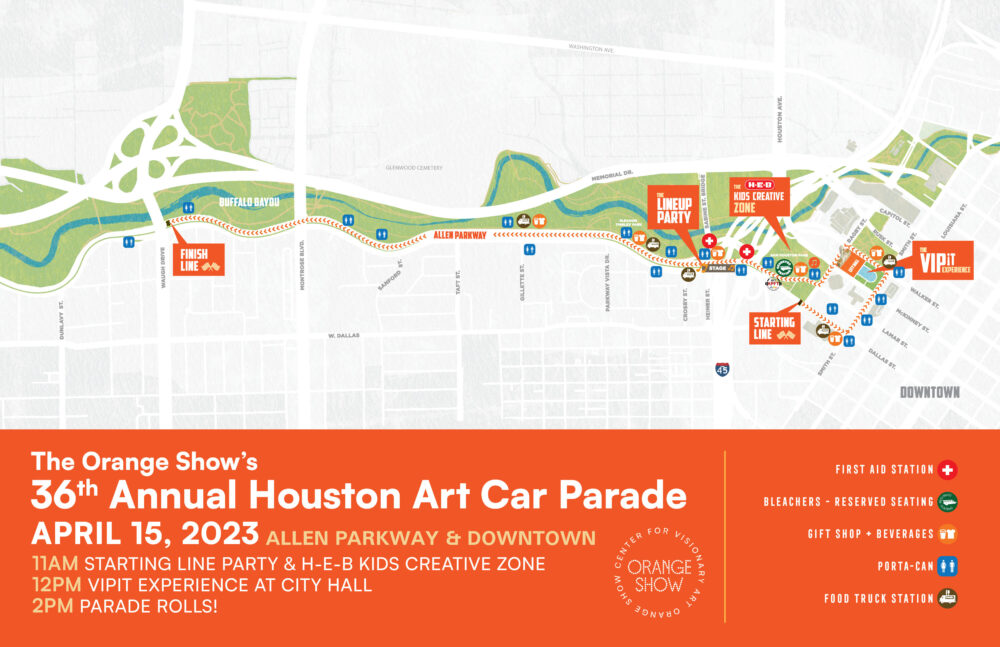 Reserved grandstand seating at Sam Houston Park can be purchased online for $40.
Included in the parade will be a contingent of art bikes that will subsequently be featured during The Second Annual Houston Art Bike Festival on May 13 at MacGregor Park and The Orange Show World Headquarters.
Sunday, April 16
Art Car Awards Ceremony | 11 a.m.-2 p.m. at The Orange Show World Headquarters, 2334 Gulf Terminal Dr.
The public is invited to attend the day-after awards ceremony, where more than $16,000 will be distributed to winners in a variety of art car categories. Judging will be based on creativity, artistic techniques and inspiration.
For more information and the Houston Art Car Parade and related events, visit thehoustonartcarparade.com.