13 Investigates finds Texas is worst in the nation for hazardous train derailments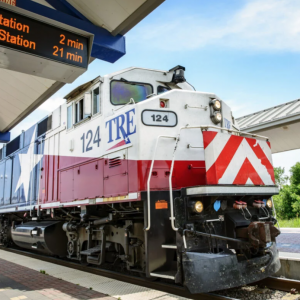 No matter what you're doing, or where you're going, there is a constant background noise in Conroe, Texas.
"There is one on the way," said long-time Conroe resident Lisa Burks as she sat on her front porch less than 100 yards from the train tracks. "Did you hear the whistle blow?"
Burks spent every Friday night of her childhood sleeping in the ranch-style brick house when her grandmother lived there. On a rainy spring day in May, her grandchildren now nap in the same room.
"(Trains are) just a part of the town," Burks said.
Living on the train tracks is such a way of life, many in Conroe more or less forget about them. We asked Burks, when it come to community chit-chat, what do people say about the trains?
"I'm not really sure what they're talking about," Burks said after a long, thoughtful pause.
She said if anything, people complain when trains block intersections, which is a problem of its own.
Carl Berkowitz thinks trains, tracks, and the employees are worth talking about.
"The system has improved in some areas and not improved in other areas," Berkowitz, a transportation and engineering educator, said.
The number of train safety incidents looks good in recent years. According to the 2021 report card from the American Society of Civil Engineers, train safety incidents and injuries in the state of Texas have declined from 2018 to 2019, though deaths are up. There were 1,174 safety incidents in 2018 and 1,136 in 2019. The report lists 1,004 injuries in 2018 and 966 in 2019. There were 13 deaths in 2018 and 16 in 2019.
Berkowitz says since the early 2000s, track infrastructure has improved with better technology to keep tracks in working shape. The cars, on the other hand, need work.
"The railroads don't necessarily own the freight cars. The concept is generally that they lease them," Berkowitz said.
Old and aging railcars are more likely to be the cause for derailments.
"They don't have control over the maintenance of those cars," Berkowitz said.
According to data collected by ABC, despite the improvement between 2018 and 2019, when you zoom out, the data for Texas isn't great, especially when you look just at trains carrying hazardous material similar to the Palestine, Ohio, derailment.
The federal government has only tracked rail safety incidents involving hazardous materials since 2002. Our data team found in the last 20 years, Texas has had 138 serious incidents that have caused more than $134 million in damage, 34 major evacuations and three deaths, making Texas first in the nation for serious hazardous incidents.
Despite that, the Association of American Railroads says more than 99.9% of HazMat moved by rail reaches its destination, making trains the more responsible choice when it comes to how we're going to ship the materials.
Berkowitz said while there are laws in place to keep trains on the rails and the numbers are improving year after year, we can take safety concerns into our own hands.
"People are conscious of safety," Berkowitz said.
The phones in our hands have empowered many to take pictures and videos, and to post them online and send them into the railroads. That's helping highlight the parts of more than 10,000 miles of Texas railways that may have fallen through the cracks.
It's a practice that can ensure people like Lisa Burks can keep living by the tracks with peace of mind.
"It never occurred to me to go anywhere else. This is safe," Burks said.
So what's being done to improve rail and train car safety? Berkowitz said there is a huge gap in the work force centered around train engineering and safety. He said there needs to be a focus on building out the work force that focuses on how to improve safety.
Source: abc13.com