Injury updates: Altuve, McHugh, Springer, Smith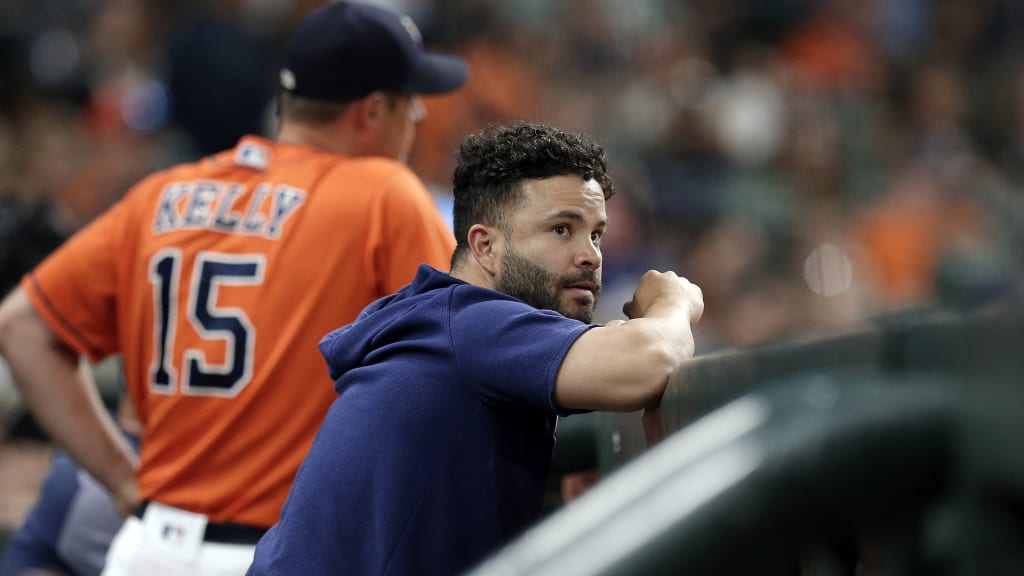 Source: Houston Astros
All-Star second baseman Jose Altuve, who's been out since he sustained a left hamstring strain on May 10, could return to the Astros during next week's series against the Reds in Cincinnati. Altuve and right-hander Collin McHugh (right elbow discomfort) were scheduled to begin rehab assignments Friday at Triple-A Round Rock.
Astros manager AJ Hinch said Friday that Altuve would play about two-thirds of the Express' game Friday, take the day off Saturday and play a couple of more games in a row. He went on a Minor League rehab assignment last month but endured right leg fatigue and soreness. McHugh was scheduled to pitch Friday and take a couple days off before a multiple-inning outing.
"Those guys will be in Round Rock for the next four or five days," Hinch said.
Veteran relief pitcher Joe Smith, who's missed all season following surgery to repair a ruptured Achilles' tendon, threw 20-25 pitches in a live batting practice session in West Palm Beach, Fla., on Friday and will join the team in Cincinnati next week. Hinch said he will throw another live batting practice session before deciding when he will start his Minor League rehab.
Astros call up relief help

Having already played four extra-inning games this month, the Astros summoned some help for their overworked bullpen by calling up right-hander Rogelio Armenteros prior to Friday's game, with outfielder Derek Fisher getting sent back to Triple-A.
Armenteros, who would make his Major League debut if he gets into a game, had a 5.00 ERA in 11 games at Round Rock with 49 strikeouts and 18 walks in 45 innings.
"We needed an extra pitcher," Hinch said. "Our bullpen is pretty tired. We want to make sure we protect our guys down there and Armenteros is the arm that's available to come up. He's been a candidate before."
The addition of Armenteros gives the Astros four Cuban-born players on their 25-man roster; he joins Yuli Gurriel, Yordan Alvarez and Cionel Perez. Aledmys Diaz, who's on the injured list, was also born in Cuba.
"It's fun," Hinch said. "It gives some bragging rights to our players. They're good players, which is the best part. It's a tight-knit group."
Fisher was called up to the Astros for the second time this season when Springer went on the injured list on May 25 and has hit .226 with a homer and five RBIs with Houston this year.
"I just had to remind him it's an unfair business sometimes and he's done everything we've asked," Hinch said. "He's a big leaguer. It doesn't feel like it when you're being sent down. I was very proud of how he worked and how he changed a few things with his hitting."
The Astros on Friday announced the signing of Barber and Kessinger, who received a $750,000 signing bonus (slot value was $953,100). The slot value for Barber at the No. 136 overall pick as $410,00, but the Astros love his power and speed combination.
Barber, 18, said he got chills all over his body when he signed the contract and said it was one of the greatest moments of life. He hit .493 with 10 home runs, 42 RBIs, and a 1.647 OPS in 27 games for Pleasant Valley High School. Barber will report to the Gulf Coast League in Florida to start his career.
"My parents really wanted me to go to college," he said. "My mom is heavy into education, and Oregon is a great school, great baseball program. It's a tough choice, but I want be a Houston Astro. This is the right decision."
Astros draft SS Kessinger No. 68
Astros draft SS Kessinger No. 68
01:08
Jun. 4th, 2019
Kessinger, who was drafted after his junior year at Mississippi, will report to short-season Tri-City tomorrow. In 2019, Kessinger started 65 games, posting a team-high .332 batting average with 47 RBIs, 18 doubles and 16 stolen bases for the Rebels.
"It's hard to put into words," he said. "There's a lot more work to be done, but to get to this point is awesome."